This post may contain Amazon or other affiliate links. As an Amazon Associate I earn from qualifying purchases. Click
here
to read our privacy policy.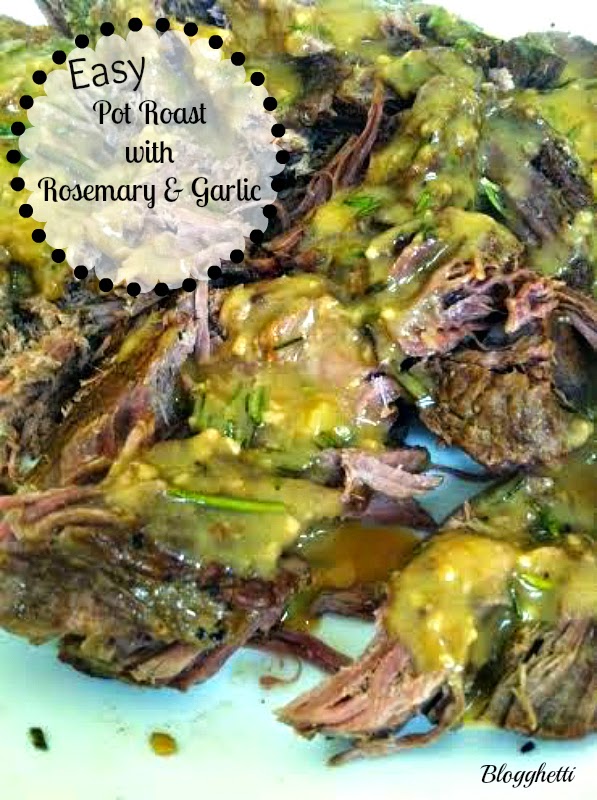 So much has been going on since the end of May here. We've had two family weddings in two different states which gave us two summer vacations this year. We enjoyed seeing family that we haven't seen in quite some time and others it has been years since we caught up with each other. Now that things are settling down, I am finding I have a huge to-do list of things that I want to do before I start classes in the Fall. I am taking a summer class but it's online so it (hopefully) won't hinder the to-do list.
Right before we left for Wisconsin at the end of May for wedding number one, I made this oven roasted pot roast with a rosemary gravy that was nothing short of awesome. The rosemary and garlic added so much flavor to the beef roast and gravy but it was so much better as leftovers the next day for hot roast beef sandwiches. Be sure to use an oven-safe Dutch oven or pot for this recipe. If you are without one, by all means use a roasting pan with a lid or tightly cover with aluminum foil.
Ingredients:
2-3 pounds lean beef roast, trim excess fat
2 tbsp olive oil
Montreal Steak seasoning
1/2 cup onion, diced
3 tbsp fresh rosemary
4-5 cloves garlic, minced (I use the jarred kind)
1/4 cup red wine (or beef stock)
1 cup unsalted beef stock
2 tbsp butter
2 tbsp flour
1/2 cup milk
Instructions:
Preheat oven to 300 degrees.
Season the roast with the Montreal Steak seasoning.
Heat olive oil in an oven safe Dutch oven pot over medium high heat. Place roast in hot pot and brown on all sides. Remove to a platter.
Add the onions to the pot and let cook for 2 minutes while scraping the bits off of the bottom of the pot. Then add in the garlic and 2 tablespoon of the rosemary. Cook for about 30 seconds.
Pour in red wine and beef broth. Place roast back in Dutch oven and spoon the liquid and onions to coat the top of the roast.
Cover and place in preheated oven for 3 – 3 1/2 hours or until tender and cooked through. Halfway through cooking time, turn roast over and cover again for remaining cooking time.
Remove roast from the pan to a clean platter and cover with aluminum foil to keep warm.
Pour juices into a measuring cup. You should have about 2 cups of broth left over. If you don't add more beef broth. If any fat rises to the top of the surface, remove. My roast was lean so there was very little fat on the top.
Heat Dutch oven on stove on medium heat. Melt the 2 tablespoons of butter and whisk the flour in the butter creating a rue. Slowly whisk in the 2 cups of broth and allow to thicken.
Once it's thickened, add 1 tablespoon of the hot gravy to the milk to temper it. This will allow your gravy to remain hot and thick. Pour milk into the gravy. Stir in remaining 1 tablespoon fresh rosemary.
Serve gravy over sliced roast.
Enjoy!