This post may contain Amazon or other affiliate links. As an Amazon Associate I earn from qualifying purchases. Click
here
to read our privacy policy.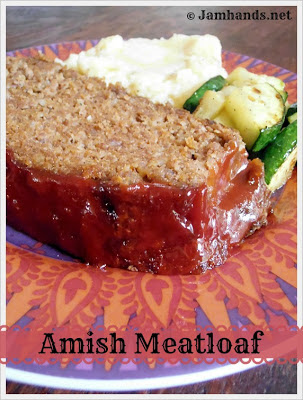 This picture is from Jam Hands.
By the time I remembered to take a picture of my meatloaf, there wasn't much left!
Yes, it's THAT good!
Meatloaf. What comes to your mind when you hear that? For me, it's the comfort food meal we had when I was growing up. My Dad's meatloaf was great and there was always mashed potatoes and corn with it. Tell me you didn't mix your corn with your taters? Yea…I thought so. Over the years
I have made several meatloaves and while they were OK, they weren't great. Probably why my girls don't like it to this day!
Anyway, I came across this recipe from
Jam Hands
called Amish Meatloaf. The name intrigued me as I grew up around Amish country and their dishes are so delicious, pure comfort food at its best! Seriously! At first glance, the recipe was totally different from how I make mine. Brown sugar in a meatloaf? Crazy! But crazy GOOD! The crackers were different for me to as I use oatmeal (gotta get the good stuff in somewhere, right?)
I figured what the heck, make it and see if it is as addicting as Ali from Jam Hands says it would be. Uh…It is. And, I am here to tell you, the brown sugar is THE key to this. Leftover are great for sandwiches.
Click here for the ingredients and recipe.
I didn't use the glaze called for in the recipe, instead I used one of my own. I have listed the ingredients for it below.
1/2 cup BBQ sauce
1 tablespoon Dijon mustard
1/4 cup brown sugar
Mix together and spread over meatloaf during the last hour of cooking time. I let it stand 5 minutes before removing from pan and slicing.