This post may contain Amazon or other affiliate links. As an Amazon Associate I earn from qualifying purchases. Click
here
to read our privacy policy.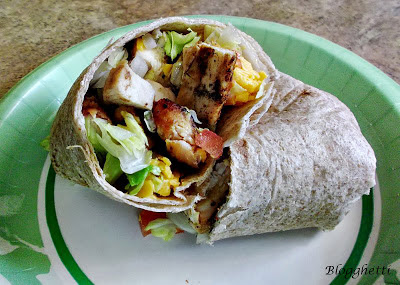 Another hot day here in Middle Georgia and I just didn't feel like turning on that oven to do any cooking. Thank goodness for the grill! Of course, we use our grill year-round no matter what state we've lived in. Even in upstate New York in the middle of the winter we used it.
I decided we were going to have chicken wraps for dinner and I set out to jazz
up the chicken with my fajita seasoning and then let it sit to get all kinds of good while I chopped up the veggies for the wraps. Grill that chicken up, dice it and make your wrap anyway you want it! Add some spicy ranch or salsa, wrap it and commence eating! This is by no means a fancy or complicated meal and I like that! Make it for dinner or lunch. The wraps hit the spot!
Ingredients for the fajita seasoning:
2 tbsp extra virgin olive oil
2 tsp chili powder (more or less, to your taste)
2 tsp cumin
1/2 tsp garlic powder
1/2 tsp dried oregano
Rest of the ingredients:
4-5 boneless, skinless chicken breasts
lettuce, chopped or shredded
tomatoes, diced
onions, diced
shredded cheddar cheese
flour or wheat tortillas shells
Instructions:
Mix up the fajita seasoning in a small bowl.
Coat the chicken breasts with seasonings and them sit while you prepare the vegetables.
Assemble your wraps with the chicken, vegetables, cheese, and your dressing.
Enjoy!