This post may contain Amazon or other affiliate links. As an Amazon Associate I earn from qualifying purchases. Click
here
to read our privacy policy.
These Oven Baked Zucchini Sticks are coated in Panko breadcrumbs and served with a delicious sweet caramelized onion dip. Perfect appetizer, snack or side dish.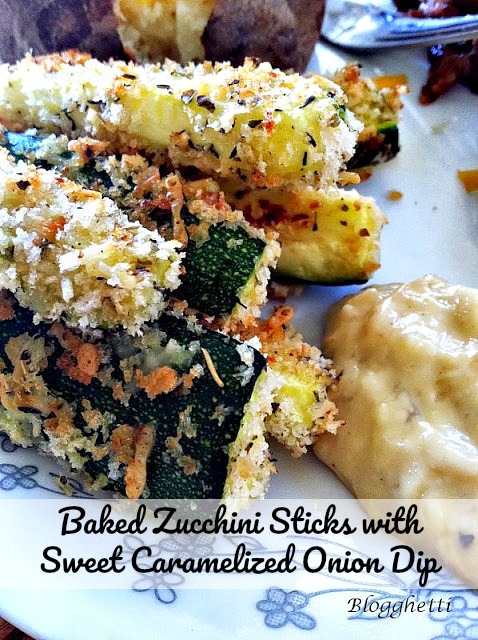 Zucchini is abundant right now and while there are many way to prepare it, my favorite way is to roast it but even that can become boring. Baking the with a Panko coating was the answer! Even better was dipping the crispy melt-in-your-mouth veggie sticks into a sweet onion dip. Not just any onion dip, one that the onions have been caramelized. This dish could easily be an appetizer at your next get-together or as a side dish. I'd even make it to have as a lunch or dinner on its' own for myself. It wouldn't fly with the rest of my family as they seem to think dinner needs meat of some sort. They really are confused on the nights that we have meatless meals such as pasta dishes or soup!
A few tips before you make this wonderful dish:
Don't be tempted to use the larger zucchini you may find at the store or your local farm stand, instead use medium, thinner ones(roughly about 9 inches long.) When you cut them you should be able to get 18 sticks from each one you are using. Cut the vegetable into thirds lengthwise, then cut each piece in half lengthwise, and finally each of those sticks in half.
It's also important to pull the excess water out of the zucchini so that when you are baking them they don't turn to mush. To do that, simply place your veggie sticks into a colander and sprinkle about a tablespoon of salt over them. Toss them around to coat and let them drain for about an hour, tossing them a few times during that time. Once that is done, rinse well to get the salt off and pat dry with paper towels.
When you are ready to coat your zucchini sticks, remember the number one rule of breading any food – one hand for wet and one hand for dry. Don't be tempted to try to coat more than one stick at a time in the Panko. Yes, it will take more time but seriously, don't give in. This is key to keeping your Panko crumbs with the least amount of egg batter in it not to mention keeping your hands from looking like a big glob of mess.
Caramelizing onions is a slow process. You don't want to rush it or your onions will be browned too quickly or even burned and not at all caramelized. Low to medium heat is the best temperatures to do the job. So manage your time wisely. I cooked the onions while the zucchini were doing their thing in the colander. You could easily make the dip the day before or the morning of the day you want to use it.
The dip can be used for a wonderful sandwich spread too. I found it to be great with Meatloaf leftovers.
Now that you have these necessary tips, on with the recipe!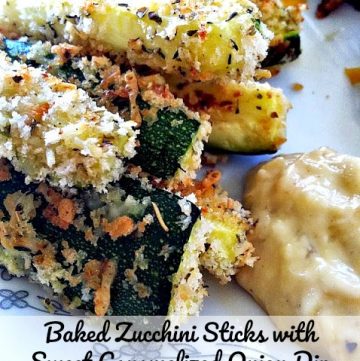 Ingredients
For the zucchini sticks:
3

medium zucchini

unpeeled, cut into 3"-long stick

1

tablespoon

salt

1

cup

bread crumbs

I like to use Panko

1/2

cup

grated Parmesan cheese

1

tablespoon

Italian seasoning

2

eggs

beaten (or you can use 3 egg whites, beaten)
For the dip:
1

tablespoon

butter

1

medium sweet onion

sliced

2

tablespoons

cider vinegar

2

tablespoons

honey

1

tablespoon

prepared mustard

1

cup

mayonnaise

salt and pepper to taste
Instructions
To make the dip:
Melt the butter in a medium frying pan over moderate heat, and add the sliced onions. Cook, stirring occasionally, until the onions soften, then caramelize. This should take between 10 and 15 minutes. The lower the heat, the longer it takes, but the less likely you are to burn the onions.

Once the onions are a medium brown, remove from the heat and add the vinegar.

Place the onions and vinegar into a small food processor. Add the honey and mustard, and process or blend until smooth.

Add the mayonnaise and salt and pepper to taste, stirring to combine. Refrigerate, covered, until ready to serve.
To make the zucchini sticks:
Place the zucchini sticks in a colander over a bowl and sprinkle with the tablespoon of salt. Let the zucchini drain for 1 hour or longer; rinse and pat dry.

Combine the Panko, Parmesan, and Italian seasoning; set aside.

Preheat the oven to 425°F. Line a baking sheet with parchment, and spray the parchment with non-stick spray.

Dip the sticks a few at a time in the egg, then roll one at a time in the crumb mixture. Place the sticks on the prepared baking sheet. Note that they coating will not cover the zucchini stick like it would say, a piece of chicken. It will be a "rough" covering of the crumbs.

Bake sticks for 12 minutes, turn over, and bake for an additional 8 minutes, until golden brown and crisp.

Serve immediately, with sweet onion dip.
Enjoy!