This post may contain Amazon or other affiliate links. As an Amazon Associate I earn from qualifying purchases. Click
here
to read our privacy policy.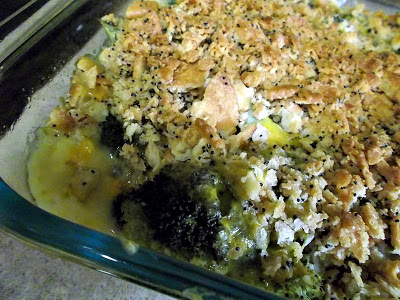 Casseroles aren't really made all that much in my home and I am not sure why other than I had picky kids when they were younger. They didn't like to have their dinner foods "mixed" into their entree. I have probably two casseroles that one daughter will eat but the not other now. My ham casserole and my mother-in-law's famous (among the entire family) chicken, broccoli and rice casserole. The latter will be made using turkey leftovers after Thanksgiving and I will be posting it. When I came across this recipe, I was intrigued by the use of poppy seeds in the topping with the Ritz crackers. I also loved the idea making my own "cream of chicken" soup and not having to use canned to cut down on the fat and sodium. I already knew one of my children wouldn't eat it and so it was good she was away at college when I made it! But the other one and the husband were about to be guinea pigs. The end result was very good! This dish will be made again and the options to change it up are going to be fun to do! It just may be another dish to make with leftover turkey, ham or even changing out the vegetables. Originally, I found the recipe on Just Get off Your Butt and Bake but since then, I have seen it several other places.
Ingredients:
1 – lb. fresh broccoli Break in pieces, and steam for 2 minutes.
3 cups cooked chicken breasts – Break up in small pieces
3 cups Grated Cheddar Cheese divided
2 tubes Ritz Crackers
1 stick melted butter
1 tablespoon poppy seeds
For the Sauce::
1/3 cup Butter- melted
1/4 cups Cornstarch, dissolved in 1/2 cup COLD Water
1/3 cup Chicken Broth (I used low sodium)
1/4 tsp. Salt
1/4 tsp Pepper
2 Cups Milk
1 1/2 cups of the above Cheddar Cheese
Directions:
In greased 13×9 pan, layer the broccoli and chicken, then set aside.
In saucepan over medium heat, combine the melted butter, cornstarch dissolved in COLD water, chicken broth, seasonings, and milk. Stir well, and continue stirring until sauce has thickened.
Turn heat down to low, and add 1- 1/2 cups grated cheddar cheese. Stir until melted.
Pour over the chicken and broccoli. Top with 1- 1/2 cups grated cheddar cheese.Melt the butter, and add the poppy seeds, and stir well.
Crush Ritz crackers in large zip-lock bag with a rolling pin. Don't crush too small.
Add crumbs to the melted butter. Sprinkle crumbs over the top of the grated cheese.Bake uncovered at 350 degrees for about 30 minutes, or until hot & bubbly.