This post may contain Amazon or other affiliate links. As an Amazon Associate I earn from qualifying purchases. Click
here
to read our privacy policy.
What makes your kitchen great isn't how large it is or the fancy appliances, it's all about organization. Here are a few easy and affordable tips to organize your kitchen so that you can love getting in there and cooking.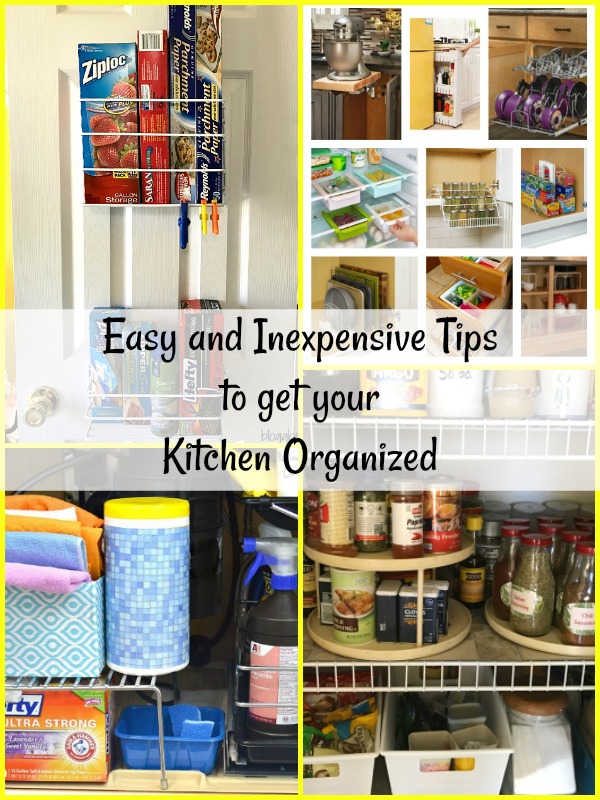 While you are pondering your New Year's resolutions, don't forget to get organized in your house! The saying, "A place for everything and everything in its place" is pretty good advice. I love my large kitchen with it's huge island but nothing gets me bummed more than the clutter that can collect on it. Then there's the pantry – I don't know how it can get so unorganized so fast! I can never find anything in there and when I do, it's expired! I would love to have a kitchen makeover, HGTV-style but eh, not in the budget. What is in the budget is using items you already have around the house, inexpensive bins and such from the dollar store, and placement of appliances to better suit your needs and space.
Easy and Inexpensive Kitchen Organization Tips
Here are my simple and affordable tips that I have implemented in my kitchen. They may not be the prettiest or most elaborate but they are functional and in my budget.
I used some simple hooks on my cabinet door to store my measuring cups and spoons. I added the piece of felt (used double sided tape to hold in place) because the cups were banging (loudly) each time we opened the cabinet door. They are always available now – before I could never find the right one I needed. I also used the hooks in another cabinet to hold my KitchenAid attachments.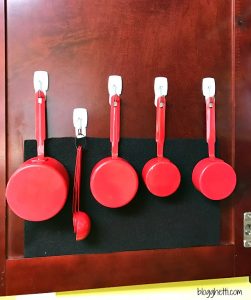 My pantry is where I made the biggest changes. I found a pack of self-adhesive floor tiles at the store for $12, I think there were 24 tiles in the box. I used them to line the wire shelves in the pantry. I was super tired of items falling over or through the wire racks. I did have to cut a few of the tiles to fit on the edges but it was easy with a box cutter knife.
In the pantry I also utilized the coffee creamer containers to store baking chips and spaghetti sauce jars for items like baking soda and popcorn kernels. I could have fancied them up but honestly, no one sees them but me (okay now the whole internet, too). Also, see those spice jars? I repurposed empty Starbuck's bottles for those in this post.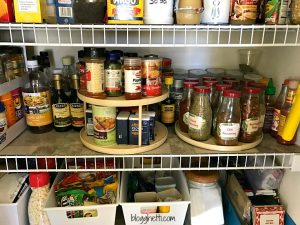 Next, easy organizational tip is using the plastic bins from the dollar store to corral like items. Candy sprinkles, flavored water mixes, bags of baking chips, spice packets, etc all neatly arranged in bins. Grab a couple of the plastic lazy Susan's from the store and you find the exact spice jar you are looking for easily. On the bottom of the pantry, I purchased a few of the wire shelves to store canned/glass goods, which also gave me more space.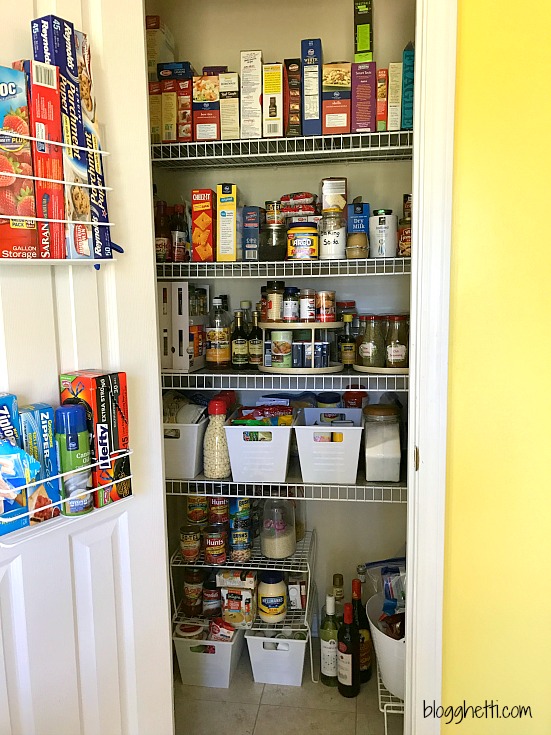 Now, let's get to the pantry door! I hung a couple of the wire racks up to store items that I had in a two drawers. That's two more drawers that I can use for organizing my growing collection of wooden spoons.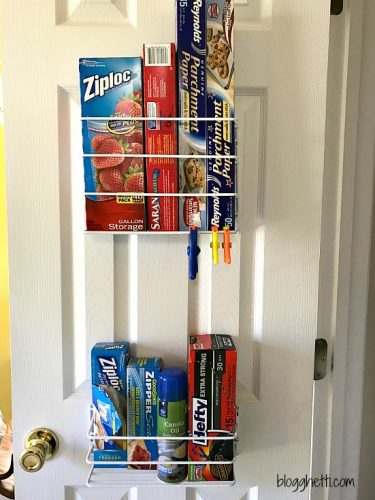 The organization methods I used are easy to implement and may not be the most decorative but they are functional, not to mention it didn't break the budget!
If you need more ideas to get your kitchen organized, check out these other inexpensive ways from fellow bloggers.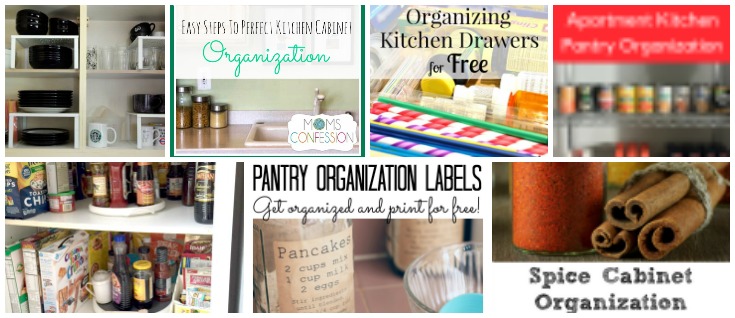 Kitchen Storage Solutions – Cupboard Organizer, Raised Shelves from Bark Time
Easy Kitchen Cabinet Organization from Moms Confession
Organizing Kitchen Drawers for Free from Organized 31
Apartment Kitchen Pantry Organization from The Urban Life
Pantry Organization Ideas from Organized Island
Pantry Organization Labels from The Country Chic Cottage
Spice Cabinet Organization Dollar Tree Style from Penny Pincher Jenny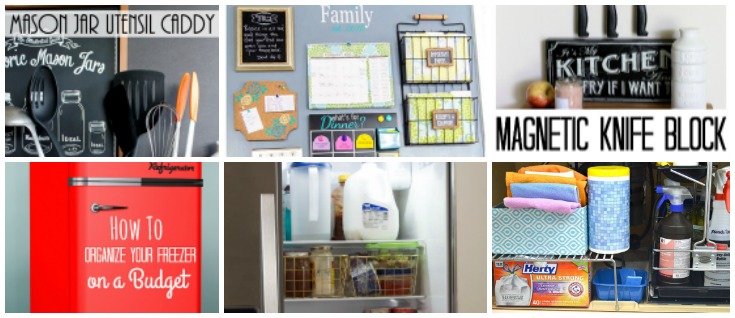 Utensil Organizer: Using Mason Jars in the Kitchen from The Country Chic Cottage
How to Create a Command Center that Works for Your Family from Uncommon Designs
Make a Magnetic Knife Block for Your Kitchen from The Country Chic Cottage
Professional Organizer Tips for Budget Freezing Organizing from Moms Confession
The One Thing that Kept Me from having an Organized Fridge from Birkley Lane Interiors
Organize Under the Kitchen Sink for Free from Organized 31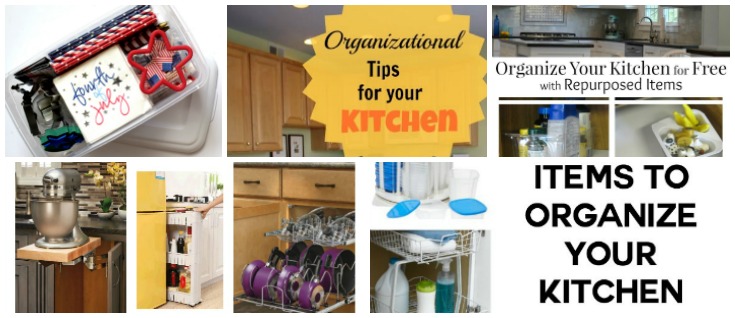 Holiday Bins from This Little Home of Mine
Organizational Tips for Your Kitchen from Living Sweet Moments
Organize Your Kitchen for Free with Repurposed Items from Organized 31
Kitchen Organization – 10 Supplies You Need from The Country Chic Cottage
10 Must-Haves to Organize Your Kitchen from Moms Confession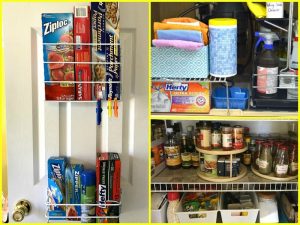 Start 2018 off with an organized kitchen!
Enjoy!