This post may contain Amazon or other affiliate links. As an Amazon Associate I earn from qualifying purchases. Click
here
to read our privacy policy.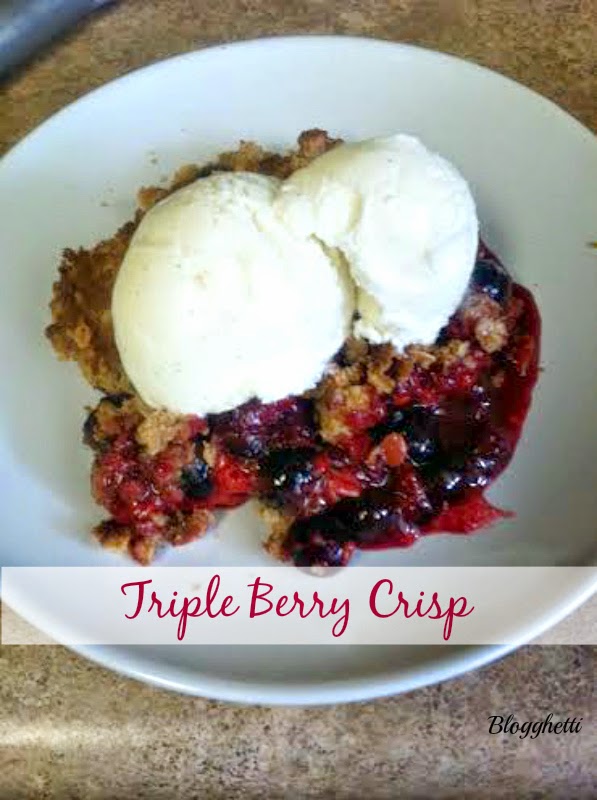 Sometimes you have to have two scoops of ice cream on your pie, or in this case, a piece of Triple Berry Crisp. Pull together this easy fruit crisp
in a matter of minutes using your favorite summertime berries topped with a crumb topping.
I went a bit wild at the grocery store with all the fresh fruit and after I unloaded it all in the house and put it in the refrigerator, I realized I had better figure a way to use it all before it spoiled. Besides the easiest way of just washing the fruit and eating it in original form, making this fruit crisp was next. The hardest part of the whole recipe is deciding which fruit to use! You can use fresh or frozen, no matter and no thawing needed either, if you are using frozen. See, simple….and Yummy!
Ingredients:
For the fruit filling:
4-5 cups of blueberries, raspberries and blackberries (fresh or frozen – if frozen do not thaw)
3 tbsp of flour
1/2 cup sugar
1 tbsp lemon juice
For the crumb topping:
6 tbsp COLD butter, cut into small pieces
3/4 cup flour
3/4 cup brown sugar
3/4 cup oatmeal
1/4 salt (optional)
1 1/2 tsp cinnamon
Instructions:
Preheat oven to 350 degrees. Get out an 8 x 8 inch square pan. No need to grease the pan.
Start by making the crumble topping: Combine the flour, brown sugar, oatmeal, salt, and cinnamon in a large bowl. You can use a pastry cutter (or two knives) to cut in the butter until the mixture forms small crumbs. I tend to use my hands as the process goes faster this way. When combined, set aside.
Making the fruit filling: Place the fruit in another large bowl. Sprinkle with sugar, lemon, and the 3 tablespoons of flour. Gently toss to distribute over fruit. Place fruit filing in the bottom of an 8 x 8 inch square pan.
Pour the crumble topping over the fruit and press slightly.
Bake for 30-35 minutes. You'll know it's done when the crust is browned and the topping looks crunchy. The smell alone will tell you, too! Serve warm or at room temperature. If you serve it before the filling cools and has time to set, the filling will spill in the pan a bit. This really isn't a problem in our house, it's what that extra scoop of ice cream is for, to mix into the filling. Hey, no judging…try it, it's yummy.
Enjoy!