This post may contain Amazon or other affiliate links. As an Amazon Associate I earn from qualifying purchases. Click
here
to read our privacy policy.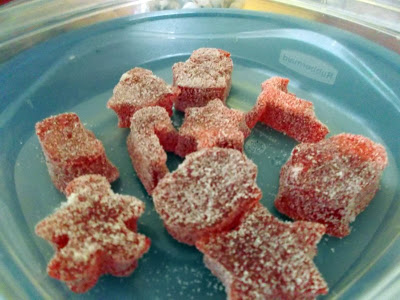 I saw this on Pinterest and immediately wanted to try them. My mind was already at the store buying the small and cute holiday cookie cutters and the other ingredients that were needed. It is a process to make these colorful gum drops but the steps are easy to follow. It's not a difficult recipe but you will spend some time waiting for the candy to chill and then dry. It's one of those that you need to make early in the morning or the day before recipes. The result isn't like the store bought gum drops but more like a sugary jello jiggler. They are really quite tasty and added something different to my Christmas goody bags! I have added a few tips along the way in the recipe that will help make things easier in the end.
Ingredients:
2-1/2 cups sugar, divided
1-1/3 cups applesauce
2 packages (3 ounces each) red OR green gelatin
2 envelopes unflavored gelatin
1 teaspoon lemon juice
Directions:
Spray an 11-in x 7-in baking dish with non-stick spray and place in the refrigerator to chill.
In a large saucepan, combine 2 cups sugar, applesauce, red or green gelatin, unflavored gelatin and lemon juice; let stand for 1 minute.
Bring to a boil over medium heat, stirring constantly. Boil for 1 minute.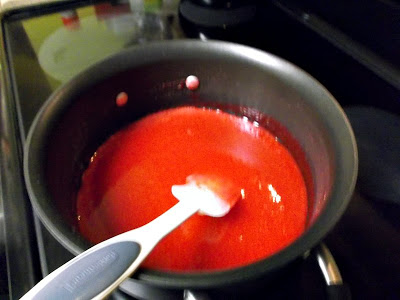 All ingredients mixed together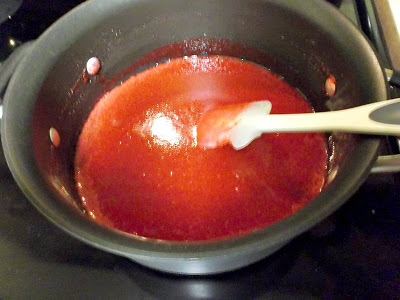 The raspberry almost to the boiling point
The lime almost to boiling point
Immediately pour into a cold 11-in. x 7-in. baking dish coated with cooking spray. Refrigerate for 3 hours or until firm.
With a spatula, loosen gelatin from sides of pan. To remove, invert onto waxed paper. (This is where my tips will come in. If you use the wax paper, spray it with nonstick spray or the candy will stick OR you can do what we did on our second batch – we cut them right out of the baking dish and it worked great!)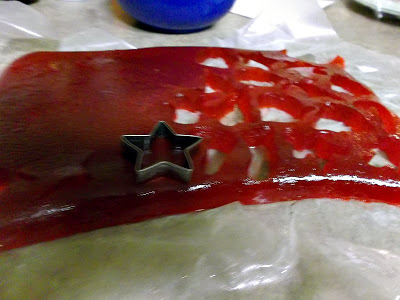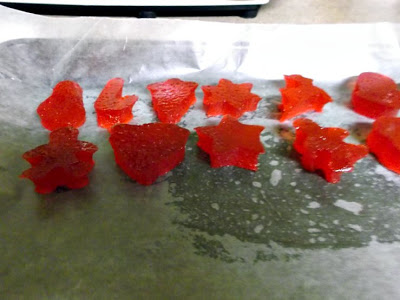 Using kitchen scissors or small sharp cookie cutters dipped on
hot
water, cut into 1-in. squares or shapes.
Place on waxed paper (again, spray the wax paper OR spray a cookie sheet and place your shapes on that).
Dry at room temperature for about 8 hours or until slightly sticky.
Roll in remaining sugar. Store in an airtight container. They are best when eaten in a couple of days. We found that raspberry flavor was not that great. Cherry would be great though and the Lime was super good!
Yield: About 1-3/4 pounds.