This post may contain Amazon or other affiliate links. As an Amazon Associate I earn from qualifying purchases. Click
here
to read our privacy policy.
Make a Holiday Cookie Mix Gift Sack with printable gift tags for cookie lovers on your Christmas lists. This DIY gift will make the most delicious double chocolate mint cookies; a perfect handmade gift.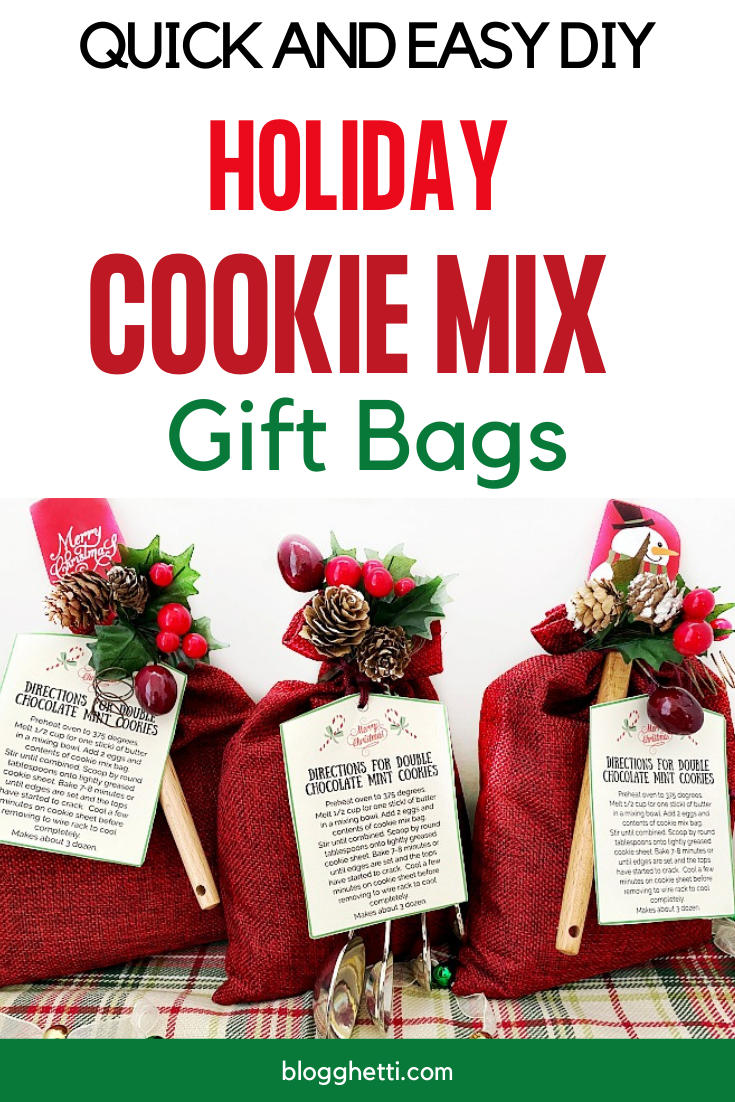 Welcome back to year 6 of our Festive Christmas Event where we team up with a bunch of talented blogging friends to bring you a plethora of creative ways to celebrate your holiday season. We will be baking some cookie recipes for you, sharing some party games, making some handmade gifts, doing some ornament crafting, and sharing our Christmas movies family fun. There will be breakfast recipes and as always our decorated Christmas Trees which is always a fun tour of homes. New this year is Gift Guides. We are right there with you shopping from home due to COVID 19 and we understand how hard that can be so we have been busy little Elves doing tons of research to create fabulous Gift Guides to help you with your holiday shopping. You will find new ideas every Monday and Wednesday between Oct. 19th through Nov. 18th. Scroll all the way down to find all the ideas linked at the end.
Last week I shared two wonderful gift guides. Check out the first one, Holiday Gift Guide of Cookbooks Written by Your Favorite Food Bloggers and this one filled with Holiday Gift Ideas for the Foodies in Your Life. Today, it's all about handmade gifts.
Why are handmade gifts better?
A handmade gift is a unique way of telling people that they are special. You took the time to create something for them and nothing spells love better than TIME. I have several friends who love Chai tea so I made this mix to share with them one Christmas and they loved it.
We all know someone who's very picky that it's hard to think of what gift to give, and that's when a handmade gift comes handy. Think of their interests and create something that is a one-of-a-kind gift just for them.
Even if you are giving the same gift to multiple people, it's still personal because you took the time to make it.
Another great reason to give handmade items for gifts is that it gives you a chance to do what you love. If you love to knit or crochet blankets, or paint masterpieces, or build something from wood then you are more likely to want to do your best on the project. Attach a personalized gift tag and smile knowing the recipient will love your gift.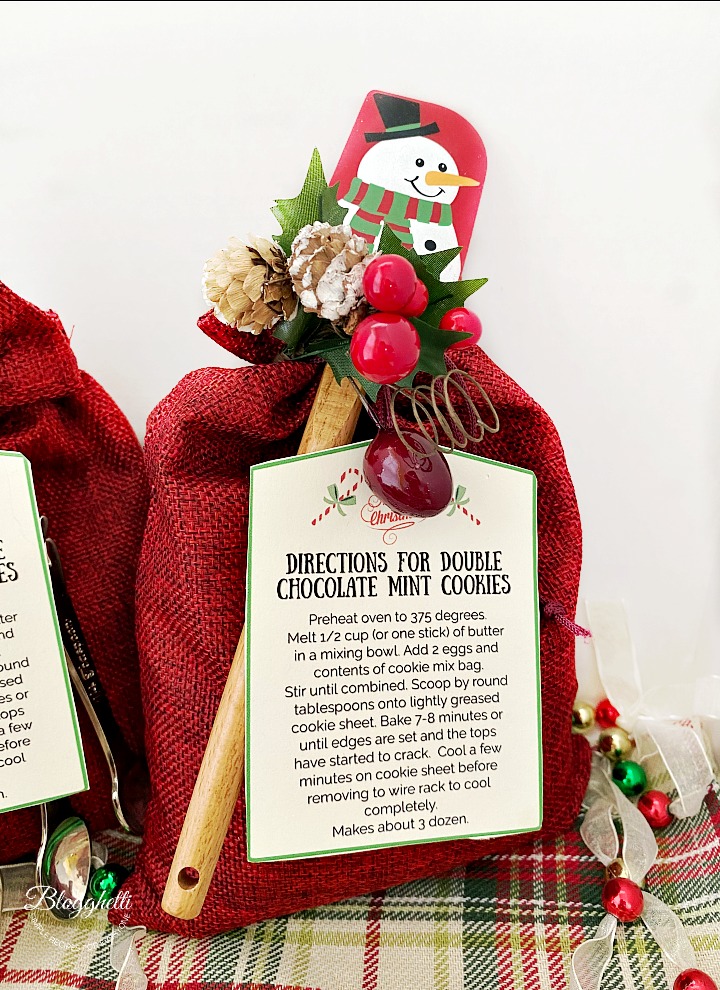 In my case, I love to cook and bake so the choice was obvious with this Double Chocolate Mint Cookie Mix that I choose to put into a cute gift bag decorated for the holidays with a cute little extra gift attached. Not to mention, the printable gift tags with the recipe on them that can be attached with a nice ribbon.
How to Make a Holiday Cookie Mix Gift Sack
My inspiration for these cute holiday DIY gift bags came from It's Always Autumn, and while she made her adorable sacks by sewing them, I am not handy like that. I decided to raid my craft closet and found these cute burlap bags to use. So, if you are great with a sewing machine, feel free to use her instructions to make the sacks. Or, hit up your craft store or Amazon. Also needed are a few holiday floral decorations to attach to the top of the bag and some string to tie around the top of the bag. Print out the gift tags that have the recipe printed on them to; attach to the bag. If you want to add a small kitchen gadget like measuring spoons or a holiday spatula, you can attach them with the floral picks.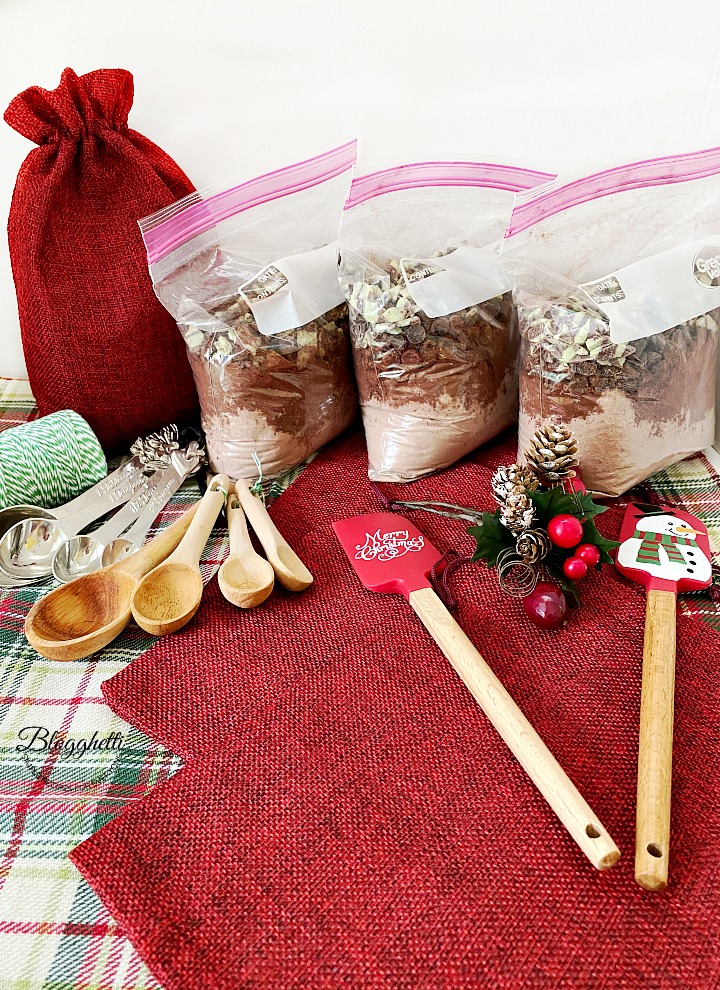 What you need to make the Double Chocolate Mint Cookie Mix
Awhile back cake mixes were on sale and I stocked up. Good thing because now I have several to use to make the cookie mix. You'll need a chocolate cake mix, quart sized resealable plastic bags, chocolate chips, mint chocolate chips, and unsweetened cocoa powder.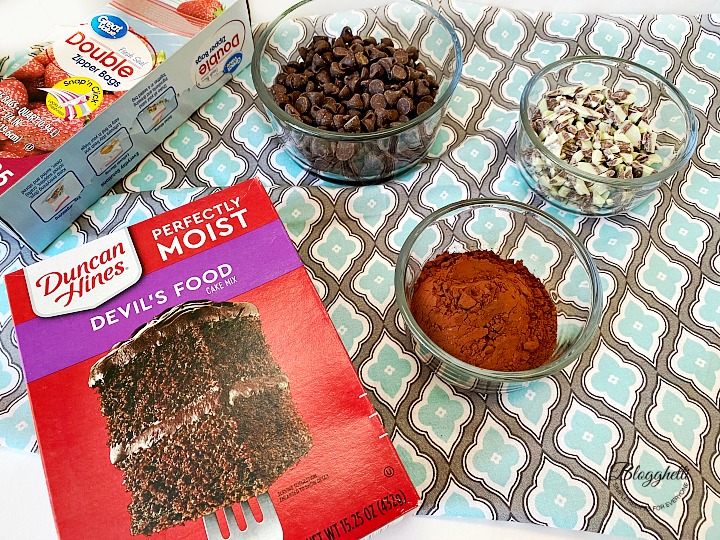 Each bag of cookie mix contains:
1 box of chocolate cake mix
1/4 cup unsweetened cocoa powder
1 cup chocolate chips
3/4 cup mint chocolate pieces
Assembling the Holiday Cookie Mix Gift Sacks
Gather your items together and form an assembly line with them. Pour the cake mix into the quart size bag, then add the cocoa powder, chocolate chips, and finally the mint chocolate chips. Close the ziplock bag and slide it inside the burlap gift bag.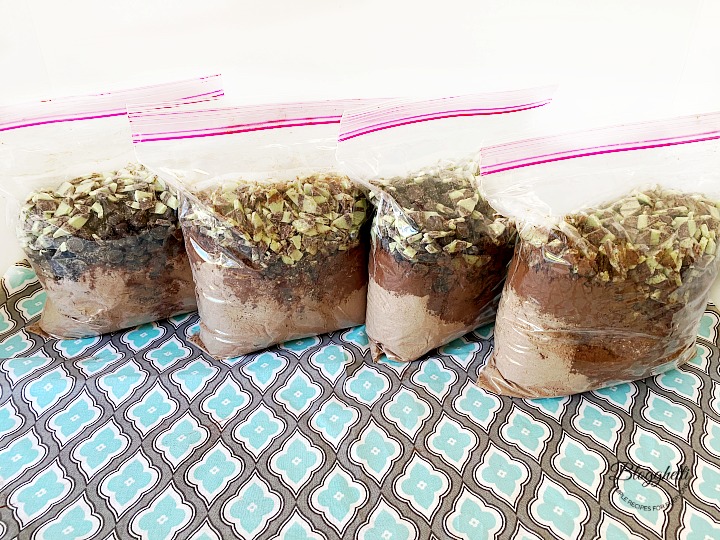 Using a piece of string, slide the printed recipe gift tag on it and then tie the string around the burlap bag to close it. Attach the holiday floral pick by wrapping the stem around the top of the bag. If you are adding measuring spoons or a small spatula, attach it with the string when you add the printed tag. Download by clicking here to print the recipe gift tags.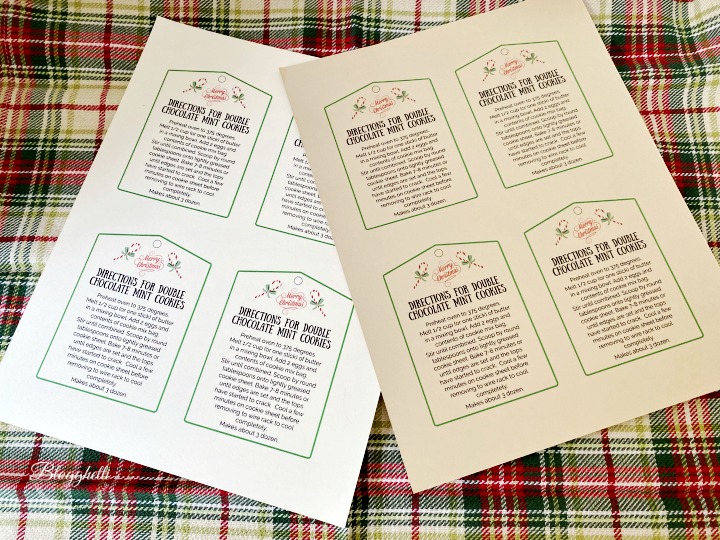 Now you have cute little handmade cookie mix gift sacks to give to friends, neighbors, teachers, and others on your Christmas list that will love them. They also make great gifts for other occasions, change out the holiday items for birthday decorations or make it a whimsical theme. Don't be afraid to add pecans in place of the mint chips, or use white chocolate chips. Think of the person it's going to and make it personable!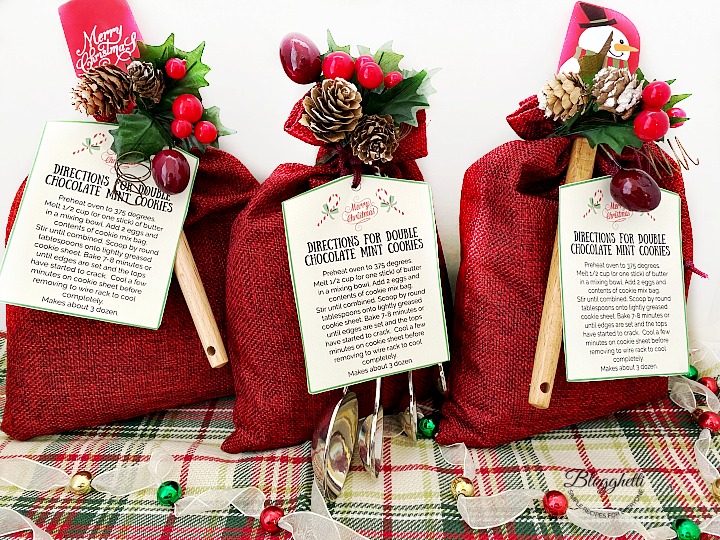 #FestiveChristmas Calendar of Events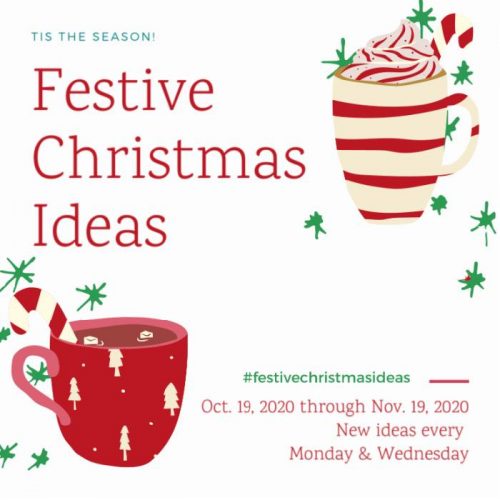 Be sure to follow #FestiveChristmas on all your social media platforms for many ideas, crafts, recipes, and more throughout the event.
Here is a list of what's to come:
Oct 19 and 21: Gift Guides
Oct 26: Handmade Gifts
Oct 28: Games
Nov 2: Ornament Gifts
Nov 4: Christmas Movies
Nov 9: Christmas Tree
Nov 11: Christmas Decorations
Nov 16: Baking Cookies
Nov 18: Christmas Breakfast
Participating Bloggers and Today's Links
DIY Fabric Face with Center Seam My Pinterventures
Make This Dollar Store Gift Elf Cam Mug Using Cricut Intelligent Domestications
Christmas Treats Rock Art Christmas Tree Lane
DIY Herb Markers Made with Cricut Creative Cynchroncity
How to Make a Coca Cola Clock Farm Girl Reformed
Handmade Soap Gift Purple Hues and Me
DIY Snowflake Soap As For Me And My Homestead
DIY Car Care Gift Bag For Her – Festive Holiday Ideas – Homemade Gifts! Little Vintage Cottage
ZGallerie-inspired DIY glam candle holders From House To Home
How To Package A Cookie For Christmas Gift-Giving My Humble Home & Garden
Homemade Hot Chocolate Mix Coffee With Us Three
DIY Angel Mason Jar Gift An Alli Event
Memory Garment Hand Warmers Interior Frugalista
Christmas Cookies In A Jar With Free Printable Simply Inspired Meals
Snow Globe Shadow Box Craft Rocker
Holiday Cookie Mix Gift Sack with Printable Gift Tags Blogghetti
Lighted Snowflake Wine Bottle Mom Home Guide
Christmas Tea Towels DIY Across The Blvd.
DIY Gifts For Teens By Teens Polka Dot Poplars
Felt Holly Christmas Napkin Rings Tikkido
DIY Coasters with Infusible Ink Domestically Creative
DIY Monogram Tray -The Handmade Gift The Aspiring Home
Handmade Earrings Domestic Deadline
Haylee Scarf Free Crochet Pattern Eye Love Knots
Easy DIY Christmas Gift Idea Farmhouse Wooden Bead Garland Pretty DIY Home
How to Make a Festive Santa Hat Calming Jar from Our Sutton Place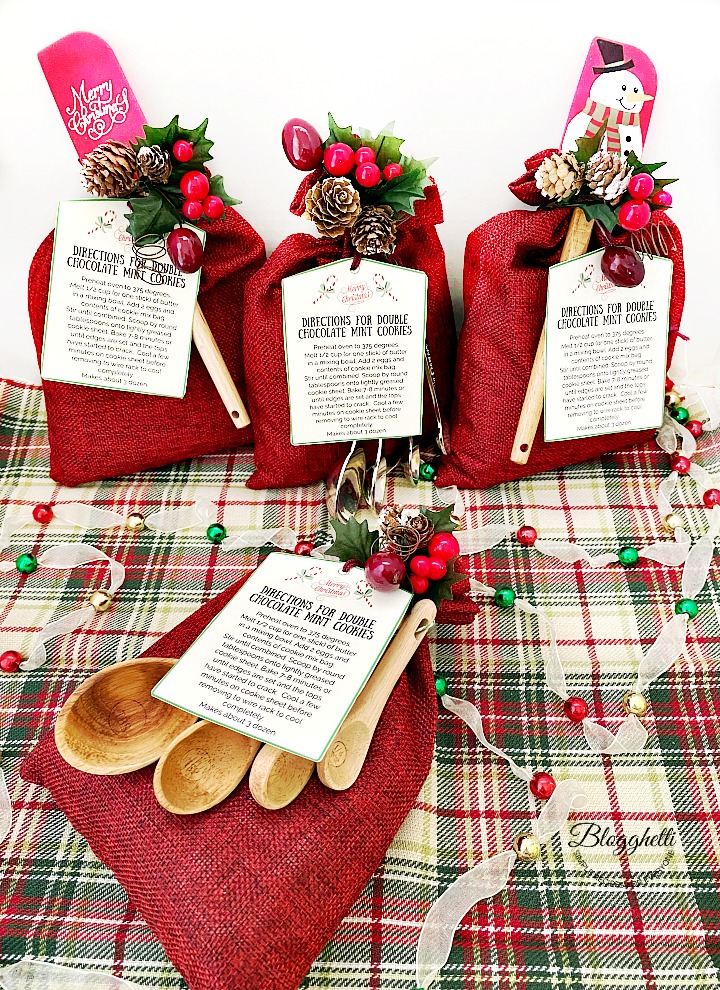 Connect with
Blogghetti

! Be sure to follow me on my social media, so you never miss a post!

Facebook | Twitter | Pinterest | Instagram

Enjoy!