This post may contain Amazon or other affiliate links. As an Amazon Associate I earn from qualifying purchases. Click
here
to read our privacy policy.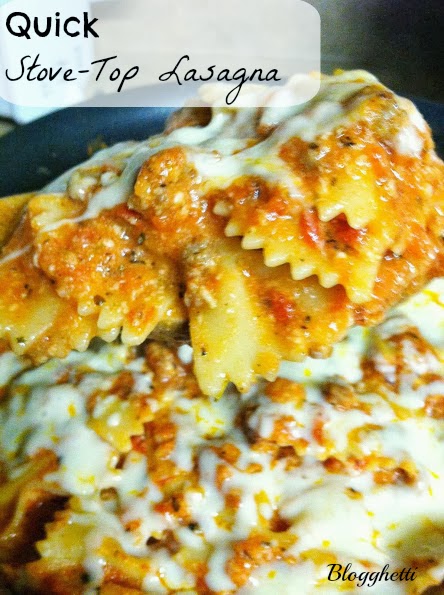 Let's face it, the traditional layered lasagna rocks but it is very time-consuming to prepare. It's no wonder I rarely make it, like once a year. Slow-simmered sauce for hours, cook the lasagna noodles, prepare the cheese layer, and then layer it all together only to have it bake for an hour. I don't do the "no-boil" noodles when I make mine either. I tried them once and
it was just not the same. Often I do use jarred sauce to speed the process up but I always let it simmer a bit with added herbs.
I saw a 30 minute version of this wonderful meal all over Pinterest so I thought I would try it. The one I choose did not cook the pasta before adding it to the sauce. Now, I have made pasta dishes like this before, and with regular pasta it worked like a charm. However, lasagna noodles are thicker and even broken up into pieces, as the recipe called for, it still took way past the 30 minutes this recipe said it would. I think it was more like an hour and some of the noodles were still hard. Don't get me wrong, others that have successfully tried this but for me, it was a huge failure. I don't like to fail. So, I decided to make my version and it was a total success! It's not a total 30 minute meal but it's less than an hour from start to finish and it's good!
Ingredients:
28 oz can Fire-Roasted tomatoes
1 jar (24 oz) favorite spaghetti sauce or marina sauce
1 pound ground hot Italian sausage (or you can use ground beef)
2 cloves of garlic, minced
2 tbsp dried Italian seasoning
1 tbsp dried basil
12 oz box of bow-tie pasta noodles
1/2 – 3/4 of a 15 oz container part-skim Ricotta cheese
2 cups mozzarella cheese, shredded and divided
Instructions:
In an OVEN-SAFE Dutch oven pot or a large deep frying pan, brown up the sausage over a med-high heat, breaking it into small pieces as you go. The sausage I used had very little fat (hard to believe, I know!) so I added a couple of teaspoons of olive oil to the pan before I added the sausage.
If you're using ground beef or a sausage that has a lot of grease when cooking, then you can drain off the grease before you add the herbs and garlic to the meat. When the sausage is nearly done (it will take about 8-10 minutes to cook all the way through), stir in the Italian seasoning, basil and garlic. Let cook for about a minute.
Add in the sauce and tomatoes and mix together. I have family members who do not prefer the "chunks" of tomatoes so I do give the tomatoes a whirl in the blender/food processor to smooth them out a bit without losing all the texture. Let the meat sauce simmer for about 20 minutes.
While the meat sauce is simmering, bring a large pot of water to boil, cook the pasta according to the box directions. Drain and IMMEDIATELY place pasta back into the pot it was cooked in and cover it to keep warm.
Preheat your broiler.
Once the meat sauce has simmered, stir in the 1 cup of the mozzarella cheese, let melt. Add in the pasta, mix together. Then lightly stir in the 1/2 – 3/4 container of Ricotta cheese. You can use less or more of the container, it's a personal preference.
At this point, add the last of the mozzarella cheese on top, do not mix. Place pot in broiler till cheese is melted and bubbly. It won't take but a moment or two, so keep an eye on it. If your pot is NOT oven-safe, cover your pot and cook on stove-top till cheese it melted.