This post may contain Amazon or other affiliate links. As an Amazon Associate I earn from qualifying purchases. Click
here
to read our privacy policy.
Celebrate fall flavors with this healthy and delicious Paleo Pumpkin Nut Bread. Made with almond flour, real pumpkin, and uses honey as the sweetener.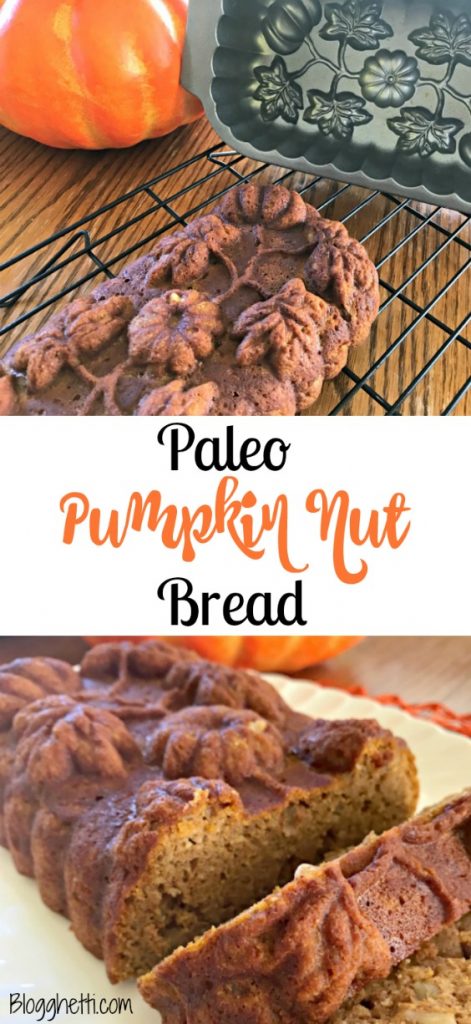 Last month my hubby and I decided to try eating Paleo for 30 days – this was huge – I mean we love our pasta, bread, and pizza; not to mention CHEESE. If you aren't familiar with the Paleo diet, here's a brief summary. Basically you are cutting out dairy, all grains, legumes, white potatoes, sugars, processed foods, and overly salty foods. Eat like a caveman! My husband was like "well, what's left!!!". I rolled my eyes and told him TONS of options. He said he would "try" it. We already have a couple of meals a week that fit into this new eating lifestyle so it was basically cutting out some other things. Hubby is a big soda drinker (I probably have a soda once a month at the movies and that's it).
Fast forward to the end of the month and I am happy to say that we both have lost pounds, hubby hasn't had a soda at all, doesn't even want FRIES, and was totally a trooper with this. He misses pizza and bread. Ha! I miss CHEESE, like you wouldn't believe. I will say we did allow ourselves one cheat each. I can't drink coffee without creamer so I opted for sweetened almond milk and he drank one of those meal replacement shakes for lunch.
Eating out was different – at first. Hubby was not impressed by his choices until I showed him ALL the things he COULD have. It was hard to say no to the yummy yeast rolls from a steakhouse place. We did find a new love for smoked grilled wings. We both agree to keep this up but add in one day a week for pasta or grains….pizza haha!
Baking something sweet was a challenge and while hubby said he prefers white flour in his baked goods he did eat this delicious Paleo Pumpkin Nut Bread made with almond flour, honey, coconut oil, and plenty of pumpkin spice. I made Banana Nut Muffins and tried using coconut flour in another Pumpkin Bread recipe – more on those later in another post.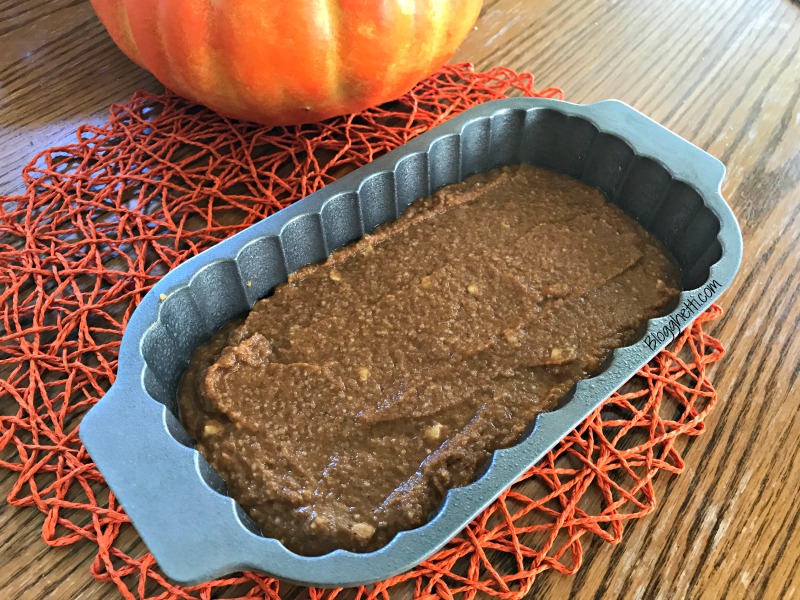 The batter for this recipe is thick, so don't be alarmed at that. The almond flour gives the bread an additional nuttiness with the walnuts. The loaf also does not rise as much as a white flour based bread does.
Don't you just LOVE that baking pan? It's from Nordicware and I absolutely am in love with it. I just may have to keep making pumpkin bread forever.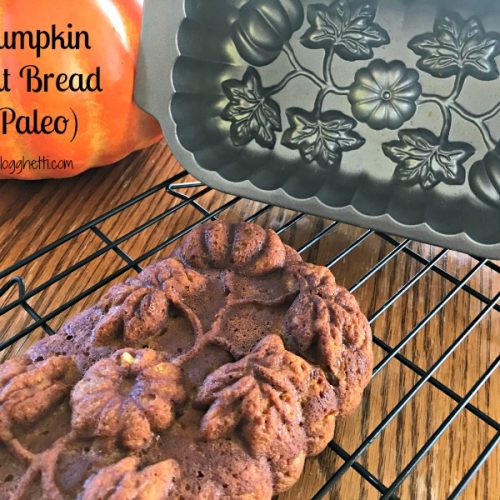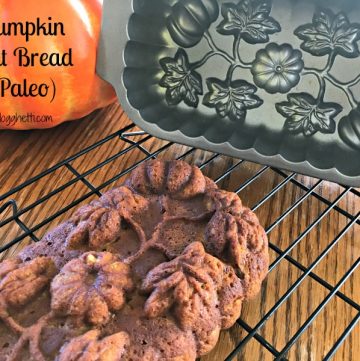 Paleo Pumpkin Nut Bread
Celebrate fall flavors with this healthy and delicious Paleo Pumpkin Nut Bread. Made with almond flour, real pumpkin, and uses honey as the sweetener.
Print
Pin
Rate
Ingredients
1 1/2

cups

of almond flour

2

tsp

cinnamon

2

tsp

of pumpkin pie spice

1

tsp

baking powder

1/4

tsp

salt

3/4

cup

of canned pure pumpkin

not pie filling

3

eggs

whisked

1/4

cup

raw honey

3

Tbsp

of coconut oil

melted

1

tsp

of vanilla extract

3/4

cup

of chopped walnuts
Instructions
Preheat oven to 350 degrees. Grease am 8-inch loaf pan.

In a medium bowl, whisk together all of the dry ingredients.

In a small bowl, whisk the eggs then add the rest of the wet ingredients and stir to combine.

Add the wet ingredients into the bowl with the dry ingredients and stir until combined.

Fold in walnuts.

Bake for 35 to 45 minutes. Check doneness by inserting a toothpick - if it comes out clean the bread's done

Remove from oven. Allow to cool in pan for 10 minutes and then remove. Let cool a bit more and then slice and enjoy.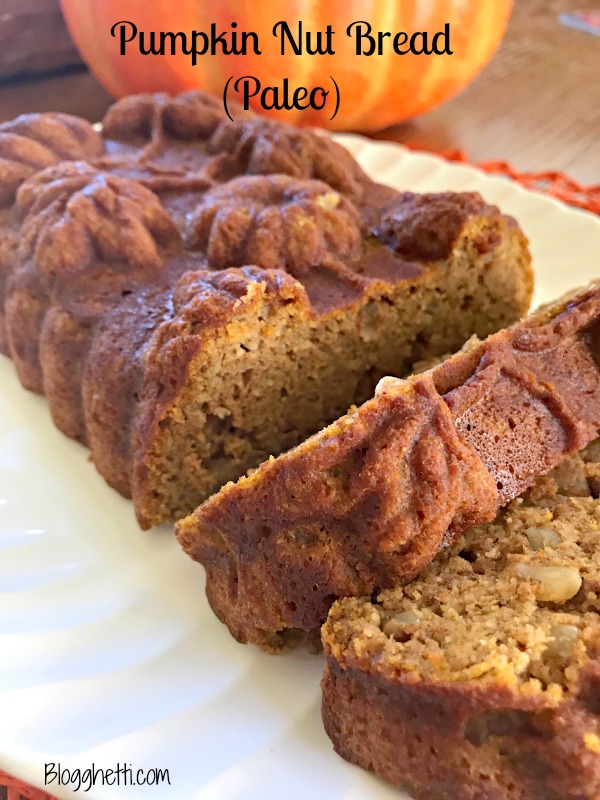 Other Pumpkin recipes you may like:
Glazed Pumpkin Spiced Bread
Pumpkin Banana Bread
Over 50 Delicious Pumpkin Recipes
Enjoy!