This post may contain Amazon or other affiliate links. As an Amazon Associate I earn from qualifying purchases. Click
here
to read our privacy policy.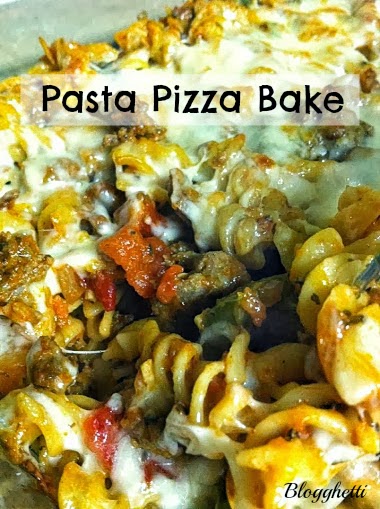 If you like pizza, you'll love this casserole not just for the taste but for the simplicity of it. Add your favorite pizza toppings to the casserole, in this case I used sausage,
green peppers, roasted red peppers, onions and of course mozzarella cheese. This is also a great freezer meal! Leave off the cheese and wrap tightly and freeze. Bring to room temperature, add cheese and bake. I love that this can be made in less than an hour and you probably have all of the ingredients on hand now.
Ingredients:
1 box (12oz) Ronzoni Smart Taste Rotini pasta
1 lb spicy or mild ground Italian sausage
1 green bell pepper,diced
4 pieces of jarred roasted red bell peppers, diced (that's just an estimate, use what you like)
1/2 cup red onion, diced
2 cloves garlic, minced
2 cups spaghetti sauce (or pizza sauce)
4 tbsp milk
pepper, to taste
2 tsp dried oregano
2 cups shredded mozzarella
1/4 cup shredded Parmesan cheese
Instructions:
Preheat oven to 350 degrees. Spray a 13×9 baking dish with non-stick spray.Bring a large pot of water to boil. Cook pasta for 6-7 minutes. Drain. Pasta will be al dente. It will finish cooking in the oven. Place pasta back into pot. You'll be mixing everything together in here.
In a large skillet brown Italian sausage till done, remove from skillet and drain. Set aside.
In the same pan you cooked the sausage saute together peppers, and red onion. Cook for 3-4 minutes or until vegetables soften. Add garlic and cook for about 1 minute. Return sausage to pan and stir to combine. Let heat up a couple of minutes.
Remove from heat and pour into pot containing the pasta. Add the spaghetti sauce, milk, pepper, and oregano stirring to combine everything.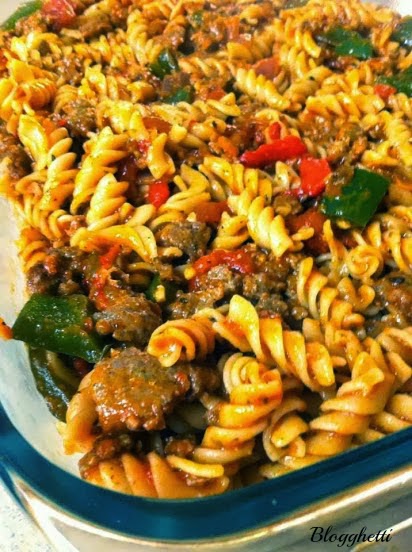 Pour contents of pot into a greased 13×9 baking dish. Add 1 1/2 cups of the mozzarella cheese on top.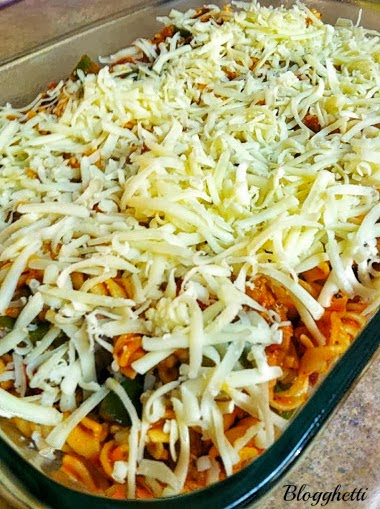 Bake in a 350 degree oven for 25 minutes or till cheese is melted and bubbly.
Remove from oven and add remaining mozzarella cheese and the Parm.
Place back into the oven and turn the broiler on, cooking till the cheese starts to brown lightly.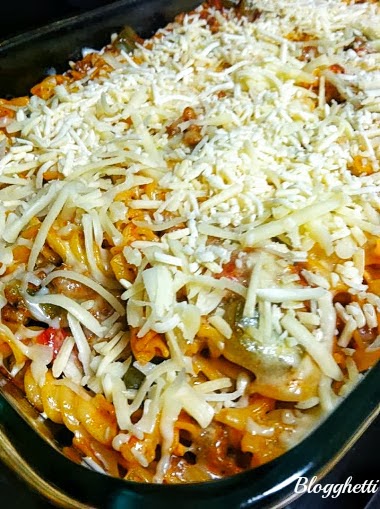 Serve and Enjoy!