This post may contain Amazon or other affiliate links. As an Amazon Associate I earn from qualifying purchases. Click
here
to read our privacy policy.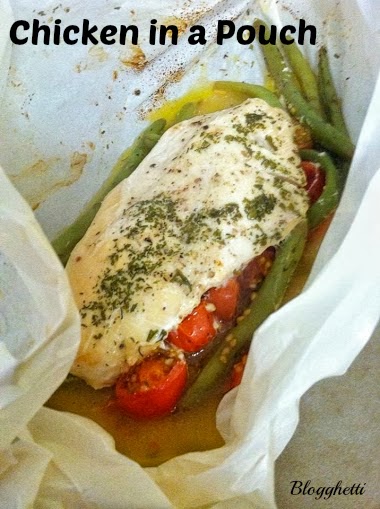 On the nights I have class I need a quick meal to make so I am not starving in class and it's late when I get home – there's no way I am going to cook then. I also don't want a mess to clean up when time is short. This is a simple yet flavorful meal and clean up is a snap, as is preparing it. It uses fresh
ingredients and is healthy to boot. An additional bonus is you can eat the meal right out of the pouch you roast it in! Less dishes to wash and anytime that happens I am super excited. Dish washing is not my favorite chore. The recipe will serve 4-5 people but it can easily be adapted to one, two, or more than 5 by adjusting the amounts.
Versatile, easy, healthy, delicious and no mess…my kind of meal.
Ingredients
4 – 5 boneless, skinless chicken breasts
1 12 oz bag of fresh green beans
2 cups grape tomatoes, halved
3 tbsp olive oil
3 tsp dried tarragon
3 cloves garlic, minced
1/2 large red onion, thinly sliced
1 tbsp white wine or chicken broth
4 tsp butter
2 tsp dried parsley
salt and pepper, to taste
parchment paper, 4-5 pieces about 12″ by 16″ each
Instructions:
Preheat the oven to 400 degrees F.
I like to use Perdue's Perfect Portions Chicken Breasts. They are individually wrapped and the perfect thickness so no pound required. This also makes it easier to make the portions I need.
Season the chicken with pepper.
In a bowl combine the green beans, tomatoes, olive oil, tarragon, garlic, onions and salt and pepper to taste. Toss lightly to combine.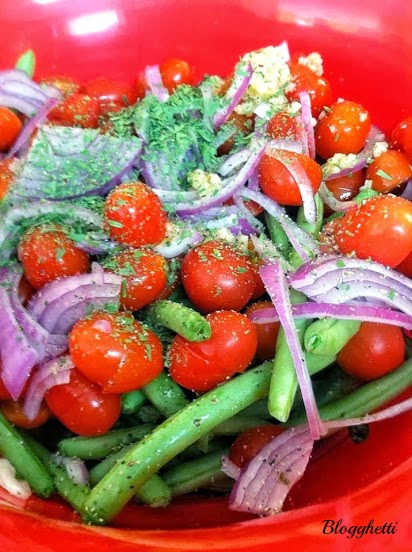 Evenly portion out the bean mixture in the center of each piece of parchment paper, top with a chicken breast, evenly splash the tablespoon of white wine over the chicken.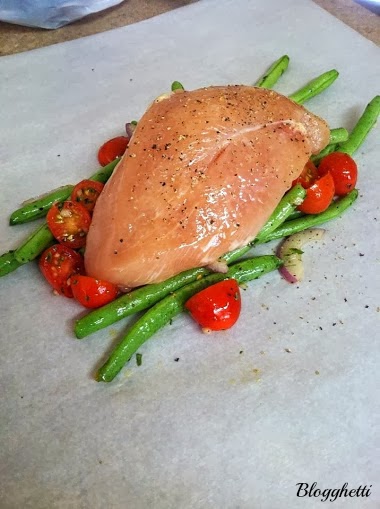 Place 1 teaspoon of the butter on top of each chicken breast.
Sprinkle the parsley over it.
Fold up two ends of the paper and roll down a couple of times.
Then fold up edges and roll top down again.
Repeat for the remaining meals.
Place on baking sheet.
Roast the chicken 25 to 30 minutes and remove from the oven.
Serve the chicken packets on paper plates, open the parcels carefully and eat right out of the pouch.