This post may contain Amazon or other affiliate links. As an Amazon Associate I earn from qualifying purchases. Click
here
to read our privacy policy.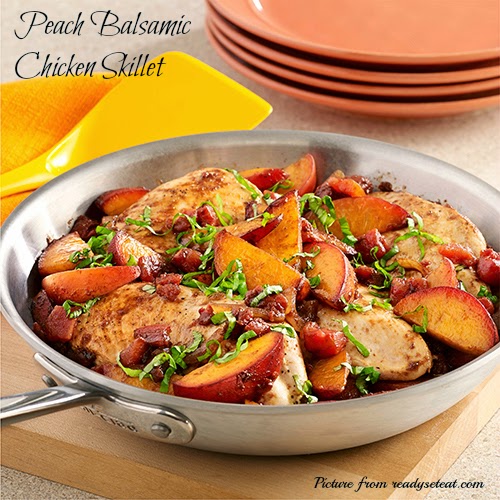 Today is the first day of Summer, although where I live the temperatures indicate it's been summer since sometime in May! Summer brings
the end of the school year, vacations, and farmer's markets. Farmer's markets amaze me, the colors and displays of fresh fruits, vegetables, and meats all get me wanting to buy everything they have to sell. I'm like a kid in a candy store at these places!
One thing that I truly do love in the summer is fresh peaches and since living in Georgia for the last 10 or so years, I've come to appreciate and love fresh Georgia peaches so much more. Nothing like sinking your teeth into a juicy, straight from the tree peach. Just a tad better than that is warm peach cobbler with a scoop of ice cream. I've never really cooked with peaches other than in baking so when Elizabeth from ReadySetEat sent me her guest post with a Peach Balsamic Chicken Skillet meal I was eager to share it with you all. It's full of flavor and fresh ingredients that can be picked up at the farmer's market. Here's Elizabeth with her recipe and guest post for today –
I remember driving through Georgia with my family when I was young and stopping by a roadside stand; we picked up some fresh peaches and pecans from the vendor and continued on our way. Even though this was just a stop on the way to Florida, I still remember–it was the first time I had gotten peaches from Georgia, after all! What better place to buy peaches than in Georgia, right? Sometimes you never know what detours in life will turn out to be the ones you remember years later. This Peach Balsamic Chicken Skillet can be made with peaches from Georgia or from your nearest grocery store! It will be a sweet and savory dish that is perfect for summer. If you're looking for a quick side for this meal, here are some
pasta salad recipes
that could be just the ticket to an easy complete meal.
2 tablespoons Pure Wesson® Canola Oil

4 boneless skinless chicken breasts (5 oz. each)

1/4 teaspoon salt

1/4 teaspoon ground black pepper

1/2 cup sliced yellow onion

3 tablespoons balsamic vinegar

2 cups sliced firm ripe yellow peaches (2 cups = about 4 small)

1 can (14.5 oz. each) Hunt's® Diced Tomatoes, drained

2 tablespoons thinly sliced fresh basil
Heat oil in large skillet over medium-high heat. Sprinkle chicken with salt and pepper; place in skillet. Add onion; cook 5 minutes or until chicken is browned, turning once. Remove chicken from skillet; set aside.

Add balsamic vinegar; cook 2 minutes or until thickened. Stir in peaches and drained tomatoes.

Return chicken to skillet. Cover, reduce heat and cook 8 to 10 minutes or until chicken is no longer pink in centers (165°F). Sprinkle with basil just before serving.
Enjoy!