This post may contain Amazon or other affiliate links. As an Amazon Associate I earn from qualifying purchases. Click
here
to read our privacy policy.
Start the New Year off right with a PA Dutch favorite and traditional dinner of slow cooked Pork and Sauerkraut with Kielbasa.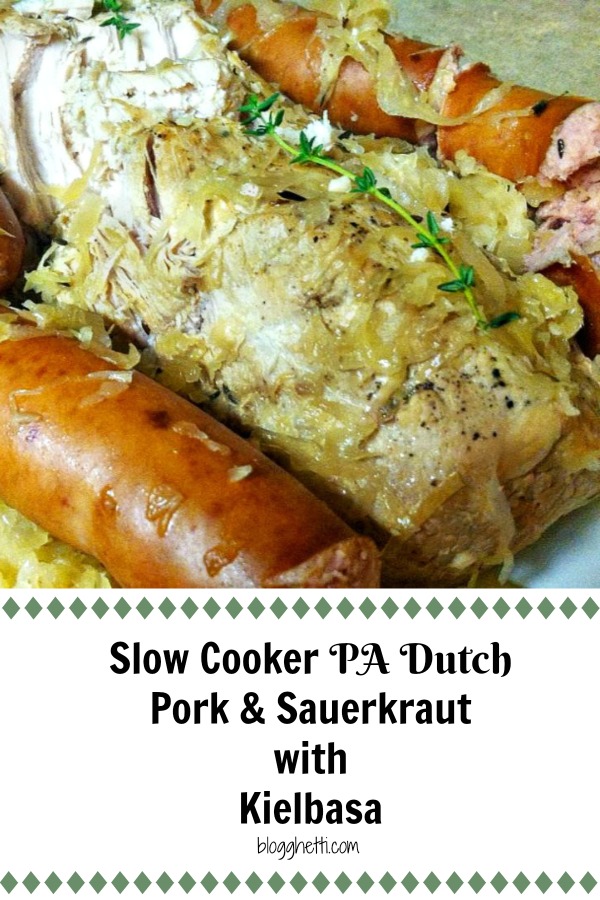 It's the second day of 2014! Did you get off to a great start with "good luck" foods yesterday? Typically, my family has pot roast with all of the fixings – potatoes, carrots, celery, and onions. We're not a black-eyed pea and collard green family. Then again, my children aren't pork and sauerkraut fans either!
This year I decided that I was going to go back to my hometown roots and make the traditional New Year's Day meal of Pork and Sauerkraut. I added kielbasa to the mix as growing up we often would have the meat on holidays with my grandparents.
When I first mentioned this would be our meal for the first day of the New Year it was met with looks of "what happened to Mom's brain" and my husband wasn't quite sure of it either as I've never cooked the combination for him the way I was describing it. I simply said, just deal. To be honest, I wasn't sure how it would turn out either!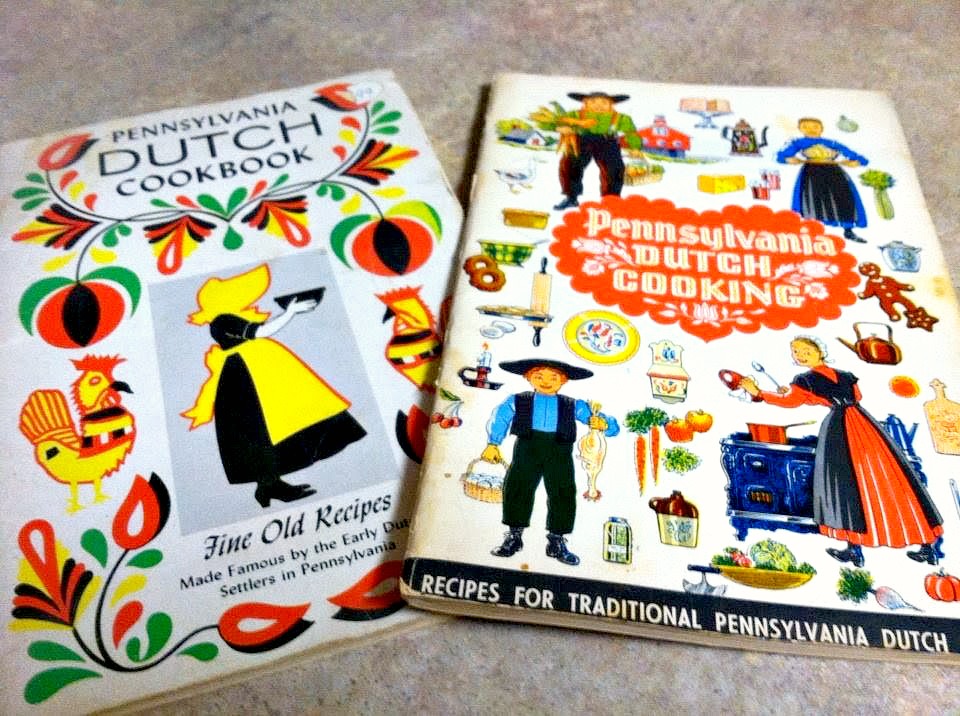 I gathered my resources – the internet and my newly acquired Pennsylvania Dutch cookbooks from my Dad. Those books were used often growing up and for me, I used it for funnel cake recipe. I compared several recipes till I found a few that I would work from to create a yummy meal, and while doing so I learned more of the reason for this meal combination.
Traditional Pork and Sauerkraut is a German and Pennsylvania Dutch meal that is eaten on New Year's Day to bring good luck throughout the year. In years past, the fattening of the pig meant once that pig was slaughtered there would be food throughout the winter months.
Cabbage is a late-fall crop and the best way to preserve it for the winter was by turning it into sauerkraut. Since brining cabbage takes 6 to 8 weeks, it would most likely be ready to eat just as the new year was arriving.
The sauerkraut and the fatted pig symbolize riches and prosperity for the coming year. Tradition says that's good luck to eat pork on the first day of a new year because pigs forage forward for their food and don't look back. Pigs root for food with their snouts in a forward motion (chickens and turkeys scratch backwards for their food) and the long, skinny threads of sauerkraut are thought to give you long life when eaten, which is smart thinking given the probiotics and other healthy byproducts of the kraut.
Cooking Tips:
When looking at the various recipes for this, one thing seemed to be clear – adding the kielbasa (if it's fully cooked) at the beginning with the pork resulted in a mushy mess but when added the last two hours it was perfect and that's when I added it, at the near end.
Every recipe varied in the amount of sauerkraut to use, I say use the amount you think you will need to feed your family and adjust the seasonings accordingly. I like things simple and if the recipe is complicated to change for your serving needs, it's not for me. Also, if you like your kraut on the tangy side, don't rinse or drain it. We prefer it less tangy so I did rinse and drain it.
The meal turned out wonderful, the pork was moist and flavorful from the seasonings and the sauerkraut. The sauerkraut picked up the flavors from the pork as well. The kielbasa was perfect with it all. Now, bring on the Good Luck for 2014!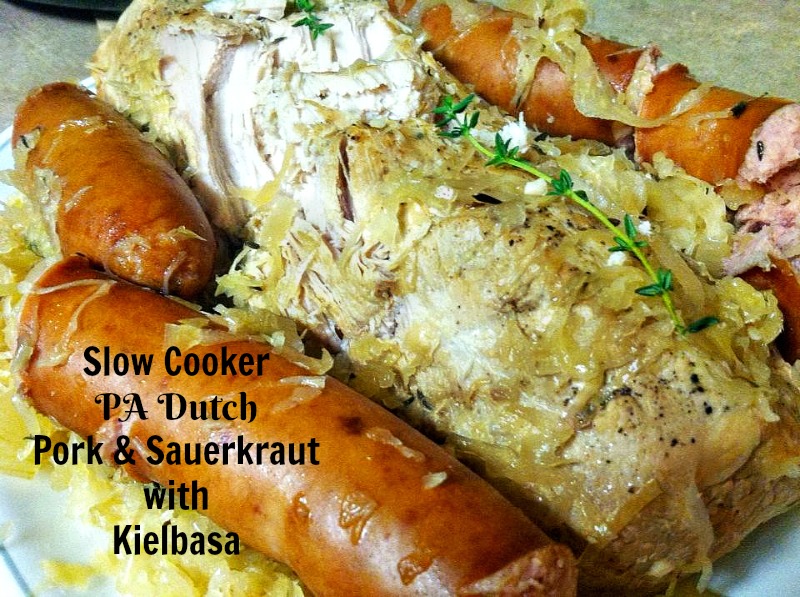 [click_to_tweet tweet="Start the New Year off right with a PA Dutch favorite and traditional dinner of slow cooked Pork and Sauerkraut with Kielbasa #padutch #pork #sauerkraut #slowcooker #crockpot #newyear #food #tradition" quote="Bring on the Good Luck for the New Year with this delicious slow cooked meal"]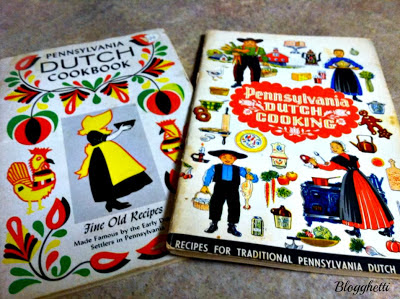 Slow Cooker PA Dutch Pork & Sauerkraut with Kielbasa
Start the New Year off right with a PA Dutch favorite and traditional dinner of slow cooked Pork and Sauerkraut with Kielbasa.
Print
Pin
Rate
Ingredients
1 - 3 to 4

lb

pork loin roast

trimmed of excess fat

2-3

cans

14 oz each sauerkraut, rinsed and drained

1

lb

polish or beef kielbasa

cut into 4 pieces (I use Hillshire Farms)

1

large onion

cut in half and sliced

1

can of beer

it doesn't matter the kind

2

tbsp

oil

1-2

tsp

caraway seed

salt and pepper

2

tsp

minced garlic

2

tsp

fresh thyme leaves

1/8 to 1/4

cup

brown sugar

use the amount to your tastes, I used a little more than the 1/8 cup
Instructions
Rinse and drain the sauerkraut and place in the bottom of crockpot. Mix the brown sugar, caraway seeds, salt and pepper (to taste) with the sauerkraut. Place onion slices on top.

Heat oil over med-high heat in a large skillet or Dutch oven. Season pork with the garlic and salt and pepper. Brown pork lightly on all sides and remove from skillet. Place meat on top of sauerkraut and onions.

Pour one can of beer over the pork and sauerkraut. Sprinkle the thyme leaves over pork.

Cover and cook on low for 8 hours. About two hours before the pork will be done, add the kielbasa pieces around the pork in the crockpot. Give them a little push down into the juices.

If your pork loin roast is smaller than the one I used, the cook time may not take 8 hours. Check it periodically, internal temperature should be at least 160 degrees. My pork was falling apart when it was done. I also turned the roast over a couple of times, totally not necessary though.

Serve with mashed potatoes to complete the traditional meal.
Connect with
Blogghetti

! Be sure to follow me on my social media, so you never miss a post!

Facebook | Twitter | Pinterest | Instagram

REMEMBER TO SUBSCRIBE TO BLOGGHETTI NEWSLETTER FOR FREE AND RECEIVE FRESH RECIPE NOTIFICATIONS DELIVERED INTO YOUR INBOX EVERY WEEK!

Enjoy!