This post may contain Amazon or other affiliate links. As an Amazon Associate I earn from qualifying purchases. Click
here
to read our privacy policy.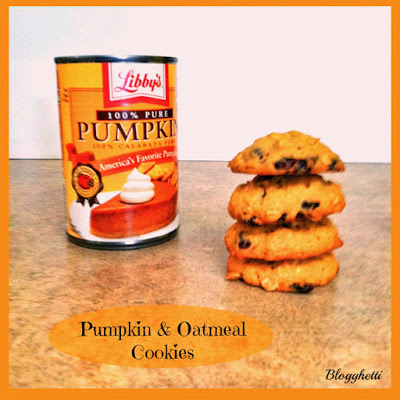 What do you make when you are craving cookies but you don't want chocolate (yes, I know that's probably against the law or something)? Since it was starting to cool off here, a sign that Fall is slowly coming to our area, I decided to make cookies. I had a can of pumpkin in the pantry that was just staring at me, begging
to be used. These pumpkin and oatmeal cookies are so good! They are soft, chewy and stay moist for days, if they last that long. They can be frozen as well. Add some chocolate if you must, or add craisins as I did. I love dried cranberries and with oatmeal and pumpkin…it's a win-win! Another treat to make with the pumpkin is this Skinny Pumpkin Spice Frappuccino. From one can of pumpkin you can have cookies and a nice frozen treat to drink!
Ingredients:
2 cups all purpose flour
1 1/3 cups oatmeal (quick or old fashioned)
1 tsp. baking soda
1 tsp. cinnamon
1/2 tsp. salt
1 cup butter, softened (2 sticks)
1 cup sugar
1 cup light brown sugar
1 cup pumpkin puree (not pumpkin pie filling)
1 egg
1 tsp. vanilla extract
3/4 cup of craisins, or chocolate chips
Instructions:
Preheat oven to 350 degrees. Spray cookie sheets with non-stick spray or line sheets with parchment paper. I like to use parchment paper simply because there are no cookie sheets to wash when you are through!
In a medium mixing bowl, mix together the dry ingredients (flour, oats, salt, baking soda and cinnamon.)
In a large mixing bowl, blend together the butter and sugars until fluffy.
Add the pumpkin, egg and vanilla extract and mix well.
Slowly add the mixed dry ingredients, a little at a time and mix well.
By hand, stir in the craisins.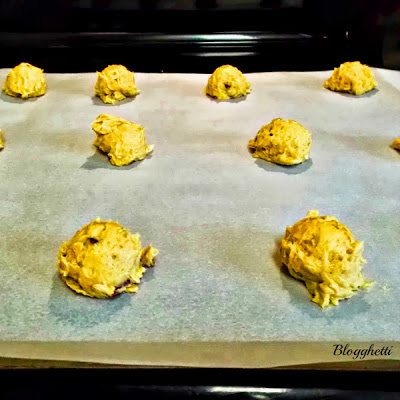 Drop spoonfuls of dough on the pan, I use a small cookie scoop which is about a heaping tablespoon.
Bake in a preheated 350 degree oven for about 14-16 minutes. If you are using parchment paper, the cookies will take about 14 – 16 minutes to bake. If you are using an unlined cookie sheet, they may be done in less time. Just keep an eye on them!