This post may contain Amazon or other affiliate links. As an Amazon Associate I earn from qualifying purchases. Click
here
to read our privacy policy.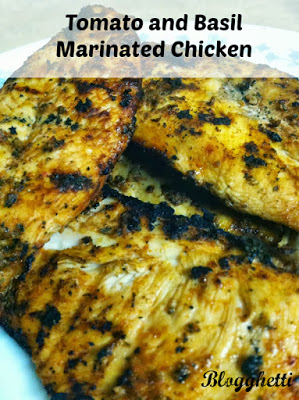 Do you have the same way of preparing chicken all.the.time? You're nodding your head right now, I can tell. If you're like me, you have a few standard-go-to chicken recipes. I have been upping my go-to recipes for chicken and this one I actually came across by accident. I had a can of
tomatoes out for another meal that fell through because I didn't want to go to the store to get the two items I was missing. I took a few other pantry staples out and came up with this marinade. Of course, I realize I am not the first to have done so but hey, it's my blog!
This particular day I marinaded the chicken for about 6 or so hours but since then I have done so for up to 24 hours. It grills up wonderfully moist and goes great with nearly any side dish you can think of. Here are a few to check out:
Ingredients:
1 14.5 oz can of fire-roasted tomatoes (or any 14.4 oz can of tomatoes)
4 -5 tsp dried basil or 1/2 cup fresh basil (roughly chopped)
2 -3 garlic cloves, minced
1/2 cup balsamic vinegar
2 Tbsp olive oil
4 -5 boneless, skinless chicken breasts
Instructions:
In a food processor or blender place: tomatoes, canned or diced fresh. the basil, garlic, balsamic vinegar, olive oil, and salt. Cover and process till well blended.
Pour the marinade into a large resealable plastic bag; add chicken. Close the bag and turn to coat both sides of the chicken. Refrigerate for 4 – 24 hours, turning the bag over a few times.