This post may contain Amazon or other affiliate links. As an Amazon Associate I earn from qualifying purchases. Click
here
to read our privacy policy.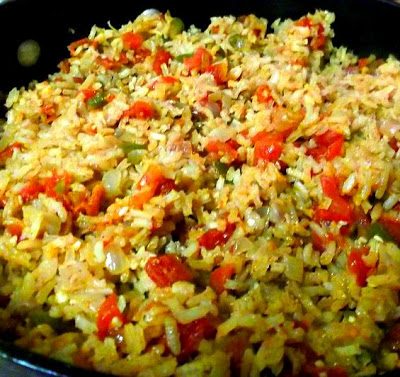 Most likely we've all had the boxed version of this dish and I don't know about you, but I've never gotten the rice "fluffy", it just stays too moist. It's good but never like I've had other places. I decided that I would give it a go and make it from scratch and now that I have, I will never use that boxed stuff again. Not only is the rice fluffy, it has more flavor than the boxed variety and so much better for you. Less sodium and all that other jazz they put in there. I found a basic recipe on allrecipes.com and read quite a lot of the reviews, made some notes and went on my way to cooking this wonderful spicy side dish. One thing I have learned over the years, is to read those reviews. It can make a difference between a good recipe and a great one. I served this along side the Baked Chicken Fajitas and it was perfect.
Ingredients:
2 tablespoons vegetable oil
1 cup uncooked white rice
1 onion, chopped
1/2 green bell pepper, chopped
1 1/2 cups chicken broth
1 (10 ounce) can diced tomatoes and green chiles (Rotel)
2 tsp chili powder, or to taste
1 tsp ground cumin
1 tsp salt (optional)
Instructions:
1. Heat oil in a deep skillet over medium heat. Saute rice, onion, and bell pepper until rice is browned and onions are tender.
2. Stir in chicken broth and tomatoes. Season with chili powder, cumin, and salt (if using). Cover, and simmer for 30 minutes, or until rice is cooked and liquid is absorbed.