This post may contain Amazon or other affiliate links. As an Amazon Associate I earn from qualifying purchases. Click
here
to read our privacy policy.
Stove Top Chicken Noodle Soup with vegetables is a simple and delicious meal for any night of the week, makes more than enough for a family of four, and costs less than $5.50. Leftovers are great for lunches the next day.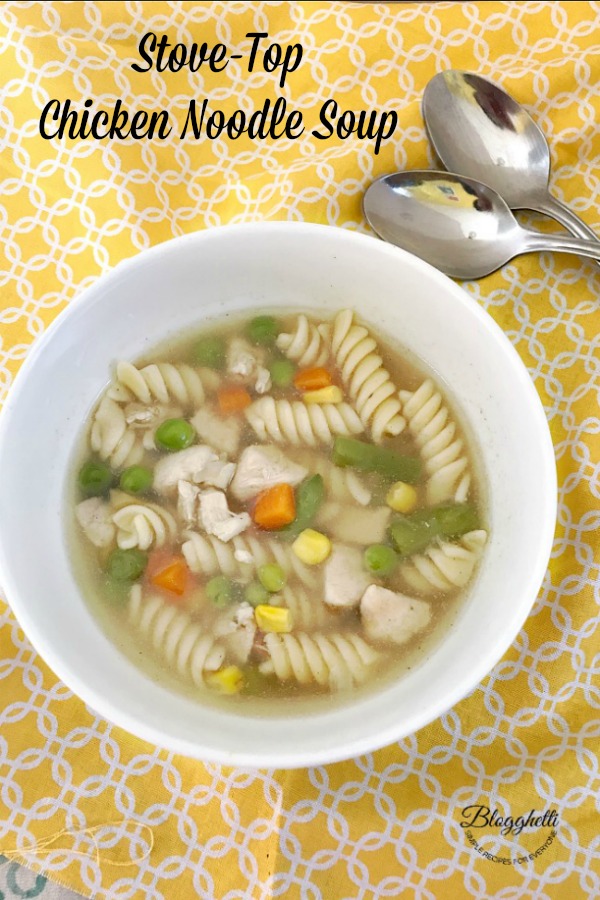 It's been a long time since my family and I have had to pinch our pennies when it comes to buying food. That doesn't mean I don't shop with coupons or look for the sales, because I definitely do. However, I will admit that when I need an ingredient for a meal that I don't have and can't improvise for it, I will run to the store to buy the item.
I grew up in a two-income family living paycheck to paycheck. My parents sure did pinch those pennies to put food on the table, clothes on our backs, and pay the bills. We didn't have many extras but we didn't go hungry and ate good food. I learned to shop for deals and buy the most for my money from my dad and to cook with seasonings to make even the most boring meal tastes like fine dining.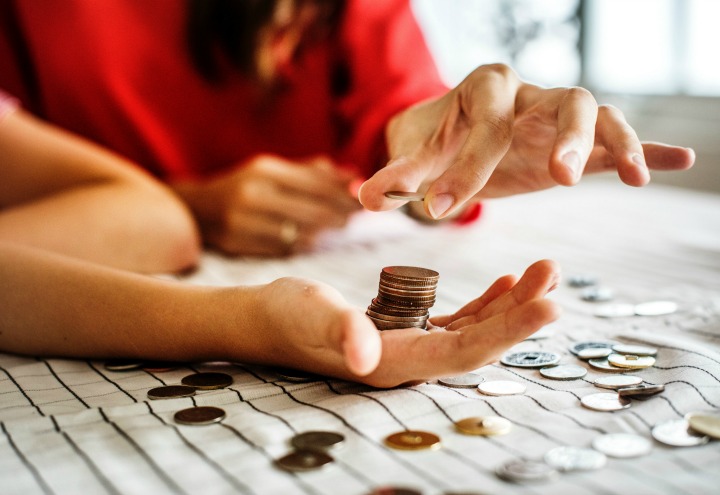 September is Hunger Action Month – a time to bring attention to food insecurity. According to the US Department of Agriculture, 1 in 8 Americans were food insecure in 2017. That's 40 million people – more than 12 million of which are children – with a lack of consistent access to enough food for an active, healthy life.
The meals below were made with a budget of $5.50 – the average amount a family of four would have for a meal on a SNAP budget. We're sharing these recipes today to show you how far these dollars go – or don't go – and to encourage you to donate to organizations addressing hunger issues. Feeding America and local food banks are the boots on the group helping feed your neighbors daily.
How You Can Help
As a group, we're supporting Feeding America's efforts to end hunger. We are collecting donations for Feeding America here: http://help.feedingamerica.org/goto/FoodBloggers. Will you forgo your morning coffee stop and donate $5 to help feed the needy instead? There are also many great local organizations fighting hunger too, including The Middle Georgia Community Food Bank. Together, we can make a difference.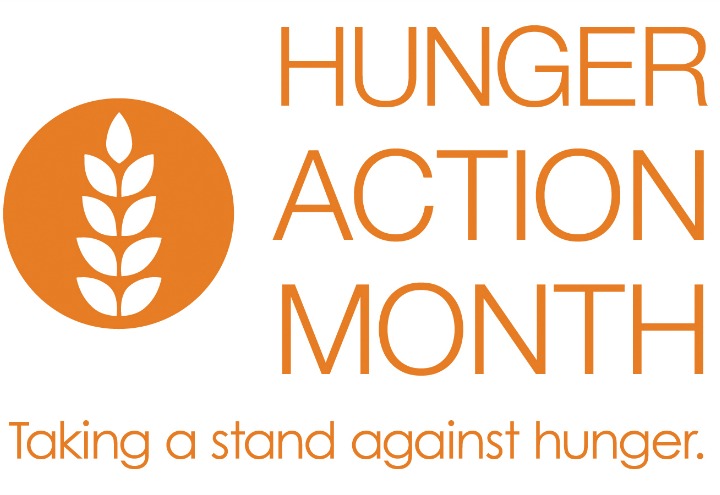 For this challenge:
I went shopping with $5.50 in my pocket (it was actually $5.60, since there was an extra dime in my pocket) and only bought the items for this Stove Top Chicken Soup. I did have to go to three stores to get the items but came in at that $5.60 total. However, I didn't use all of the pasta so that brought the meal total down to $5.21.
Not bad, since we even had left over soup for the next day's lunches.
I do want to note that while I only used the items (plus salt and pepper that I assumed most had on hand) I bought, as you create your pantry with foods and spices/herbs, you can use those to spice up your meals more than I did with this soup. We enjoyed the soup as I made it, but did agree it needed a little more seasoning.
My family and I went in this challenge with an open heart and mind and it was an eye-opening experience. I already have another recipe planned to make within the budget.
Tips to make Stove-Top Chicken Noodle Soup:
My break down for this recipe:
I shopped at Walmart for the frozen (12 oz bag) of veggies: 68 cents
Food Depot had the pasta (one pound box) for 78 cents and since I used only half the box for this recipe, the cost is 39 cents.
Also at Food Depot, the chicken broth (32 oz) was on sale for $1.45.
The chicken was the most expensive. After looking at the sale ads and checking the prices in the stores, I settled on chicken tenderloins. Yes, not a cheap cut of chicken but it was in the price range (on sale, too) and the right amount. It was just under one pound and cost me $2.69.
Total with tax: $5.60 out of pocket. Total for meal: $5.21.
This recipe couldn't be simpler and when you simmer the chicken in the broth, it creates tender flavorful chicken. I added the frozen veggies about the same time as I did with the pasta. It is a one pot meal and that makes me happy!
I seasoned the soup with just a little salt and some pepper. I did add a bit more salt once it had simmered a bit.
If you have a little oil or butter, you can brown the chicken before you add the broth, this will also give the soup more flavor as would some sauteed onion and garlic.
To me, it's all about what you have on hand that you can use to make every meal even better. You can eat for less money if you know you can add flavor inexpensively.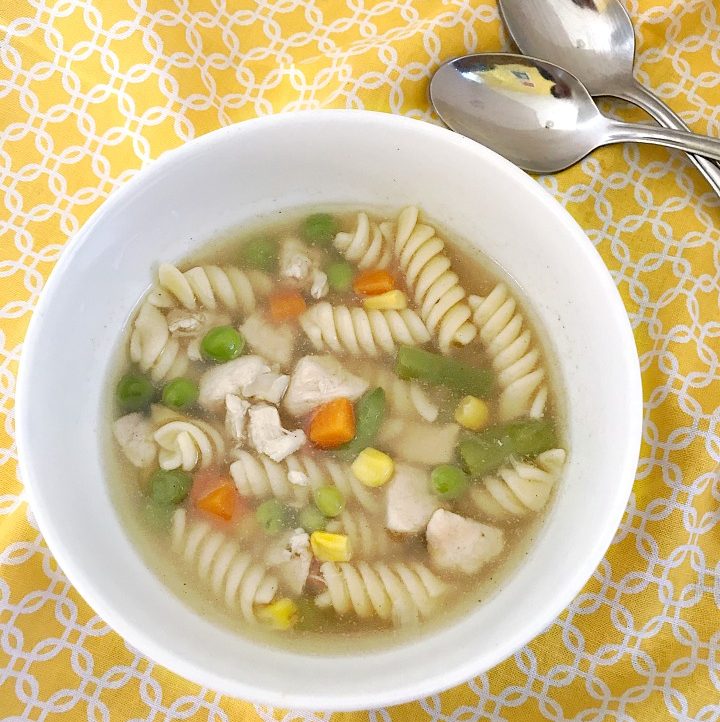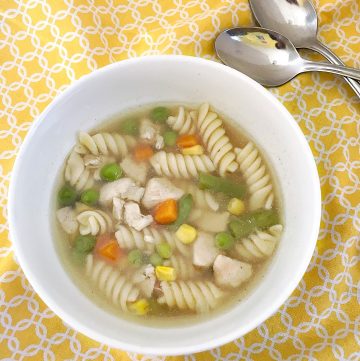 Stove-Top Chicken Noodle Soup
Stove Top Chicken Noodle Soup with vegetables is a simple and delicious meal for any night of the week, makes more than enough for a family of four, and costs less than $5.50.  Leftovers are great for lunches the next day.
Print
Pin
Rate
Ingredients
1

lb

chicken breast or tenders

diced into bit-sized pieces

32

oz

low sodium chicken broth

4

cups

water

8

oz

rotini pasta (or your favorite pasta)

2

cups

frozen mixed vegetables

salt and pepper, to taste
Instructions
In a large dutch oven pot or stock pot, add the chicken broth, water, and diced chicken.

Season with a little salt and pepper (once the chicken is cooked, you can taste to see if more is needed)

Bring to a boil, and let simmer for at least 30 - 45 minutes.

Once the chicken is fully cooked, add the frozen vegetables and pasta. Taste broth for seasonings. Bring to a boil again and let simmer until pasta is cooked and tender.
Hunger Action Month Recipes
Thanks to Kate of Kate's Recipe Box for organizing this event!
Connect with
Blogghetti

! Be sure to follow me on my social media, so you never miss a post!

Facebook | Twitter | Pinterest | Instagram

REMEMBER TO SUBSCRIBE TO BLOGGHETTI NEWSLETTER FOR FREE AND RECEIVE FRESH RECIPE NOTIFICATIONS DELIVERED INTO YOUR INBOX EVERY WEEK!

Enjoy!