It's the season for pumpkin. I'm sharing 20 of my favorite delicious pumpkin recipes to enjoy this fall. From cookies, drinks, cakes, donuts, to pies, and more. There's something for everyone on this list.
I cannot begin to tell you how much I am looking forward to the fall getting here. In middle Georgia, the summer temperatures linger into October. While I wait for the cooler temperatures and the leaves to change, I will be making all things pumpkin to get me really in the fall mode.
For that reason, I am sharing my favorite 20 Delicious Pumpkin Recipes to Enjoy this Fall; all of which I am sure you will totally love, too – if you're a pumpkin lover like me. If not, share with someone who is.
20 Delicious Pumpkin Recipes
I'm starting the list of pumpkin recipes with this dairy-free homemade Pumpkin Spice Coffee Creamer. Made with real ingredients like almond milk, pumpkin puree, and spices. This recipe will save you money since you can make your Pumpkin Spice Lattes at home with the creamer.
Pumpkin Banana Bread combines my two favorite quick breads with a spiced glazed that deepens the flavors of the bread. The bread is so moist from the pumpkin and bananas and the spices remind me that fall will be here soon!
These Pumpkin Spice Glazed Donuts are so scrumptious and moist that I really, really wanted two! The donuts have a streusel topping made with yummy ingredients like pumpkin pie spice and oatmeal. But wait. That's not all. After baking, drizzle the donuts with a sweet maple glaze. Irresistible.
Mini pumpkin pie cookies are simple to make and a delicious combination of pumpkin pie and sugar cookies. Perfect treats for your Fall or holiday desserts.
Cinnamon Sweet Potato Pumpkin Muffins are perfect for breakfast or as an afternoon snack. The delicious muffins are super moist, healthy, and so easy to make.
This Pumpkin nut bread recipe uses coconut flour and it's healthy, full of nutrients and fiber. Using coconut sugar means no refined sugar and that is a very good thing. Oh, and I added chopped walnuts so you get some good stuff from them too – you know like Omega-3s.
Pumpkin Spice Bundt Cake serves a dual purpose, at least in my house – it's great for dessert but just as wonderful with a cup of coffee for breakfast.
This is the traditional holiday pumpkin pie for my family. This classic recipe has been on Libby's® Pumpkin can label since 1950. So, a pie that has been around that long, has to be great, right?!
Incredibly moist Pumpkin Chocolate Chip Bread filled with the spices and flavors of fall with dark chocolate chips throughout the bread.
This Autumn Squash soup is creamy, flavorful, and gives me all the Fall vibes! It's super easy to make, too. Oh, and healthy! I don't even consider the little bit of heavy cream bad in this recipe with all the goodness. It's my kind of comfort food!
More Pumpkin Recipes
There is no better way to celebrate fall than with these Pumpkin Spice Cream Cheese Muffins. Deliciously moist, and fluffy muffins that have a cream cheese topping coming together to make a perfect muffin.
Celebrate fall flavors with this healthy and delicious Paleo Pumpkin Nut Bread. Made with almond flour, real pumpkin, and uses honey as the sweetener.
Soft Pumpkin Spice Glazed Scones are your answer to enjoying fall flavors. Tender scones are infused with pumpkin pie spices and topped with a double glaze of spices.
If you've never tried a pumpkin smoothie, you might have your doubts. Perfectly spiced with hints of cinnamon, nutmeg, and vanilla, this pumpkin smoothie provides all of the satisfaction of a delicious piece of pumpkin pie with none of the guilt.
All the flavors of pumpkin pie are inside these easy-to-make Pumpkin Pie Crescent Rolls and topped with a delicious vanilla glaze.
This mouth-watering glazed pumpkin-spice bread. It has all the flavors of pumpkin pie but in bread form.
Delicious Soft Pumpkin Cookies made with real pumpkin and spices and frosted with a homemade cream cheese frosting.
Pumpkin Spice White Hot Chocolate has my favorite flavors in a hot chocolate drink – pumpkin and white chocolate with almond milk. I love the nuttiness of the almond milk with the pumpkin and chocolate. Not to mention it has all those cozy fall spices you find in pumpkin pie or any pumpkin spice recipe.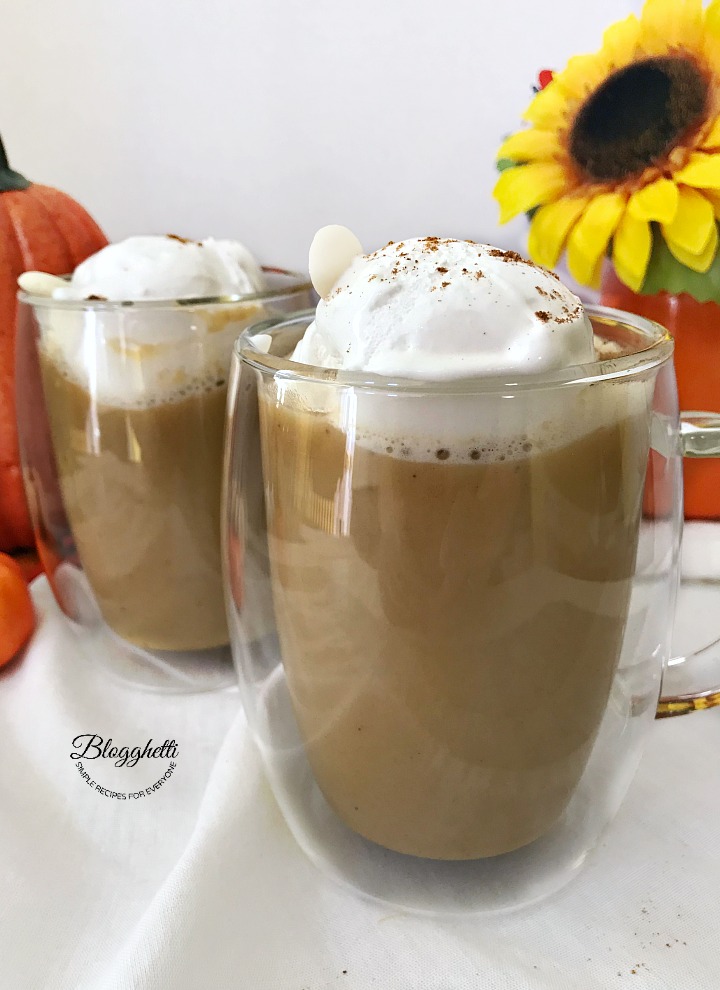 This Pumpkin Cranberry Bread Recipe bakes up moist and so flavorful plus it's an easy recipe to make. Perfect quick bread to celebrate all of the Fall flavors.
Skip the frying and make these Pumpkin Spice Donut Holes in the air fryer. Made with real pumpkin and coated with a pumpkin spice glaze; perfect breakfast treats for the Fall season.
This recipe for Pumpkin Spice Coffee Cake is perfect for breakfast or dessert. The moist cake is filled with fall spices and pumpkin, topped with a delicious cinnamon streusel with is topped with a sweet glaze.
There you have it – 20 yummy pumpkin recipes
If you need more pumpkin recipes, check this round-up out! Which one is your favorite?
Stay connected for the latest recipes
Connect with
Blogghetti

! Be sure to follow me on my social media, so you never miss a post!

Facebook | Twitter | Pinterest | Instagram

If you try a recipe, please use the hashtag #Blogghetti on INSTAGRAM for a chance to be featured!

Enjoy!