This post may contain Amazon or other affiliate links. As an Amazon Associate I earn from qualifying purchases. Click
here
to read our privacy policy.
Crock pot Chicken Noodle Soup is perfect during the cold weather; it's the perfect comfort food. So simple to make, wonderfully delicious, and healthy for you.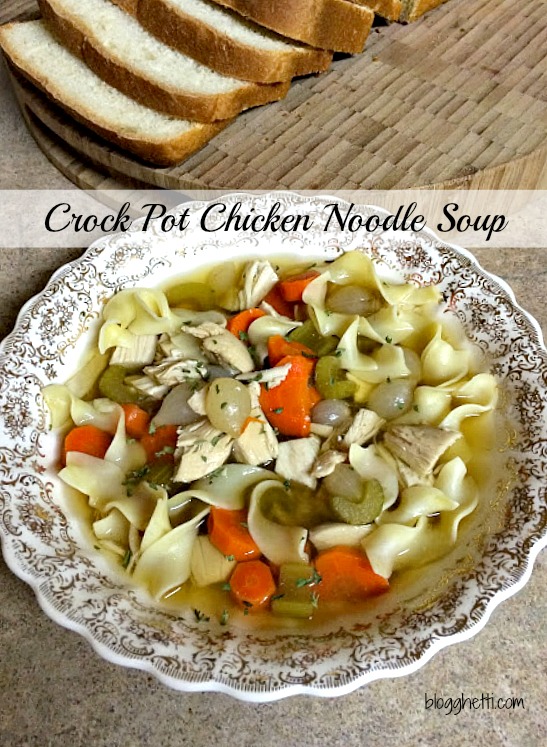 How many of your memories of family involve meals you've shared or recipes they've given you? If your family is like mine, many meals have made memories just as spending time with loved ones. My Grandparents on my father's side of the family are Ukrainian and while I have yet to attempt any of the cultural dishes yet (I don't think I could do them justice) I have fond memories of them and those that prepared them.
While chicken noodle soup isn't a Ukrainian dish, I have very wonderful memories of a Great Aunt in my family who made homemade chicken noodle soup nearly every time we visited her. The soup was always the same – delicious. I loved it and grew to expect a bowl of it every visit. It wasn't until I was adult and married when my Dad told me the secret – her broth was not from scratch as I was led to believe but from a can. I chuckled and even wondered how she made soup from basically a can taste so darn good. Over the years I have made chicken noodle soup various ways, from scratch (never seem to get it right though), using canned stock (this seems to work for me) and each time I make it, I think of Aunt Kate.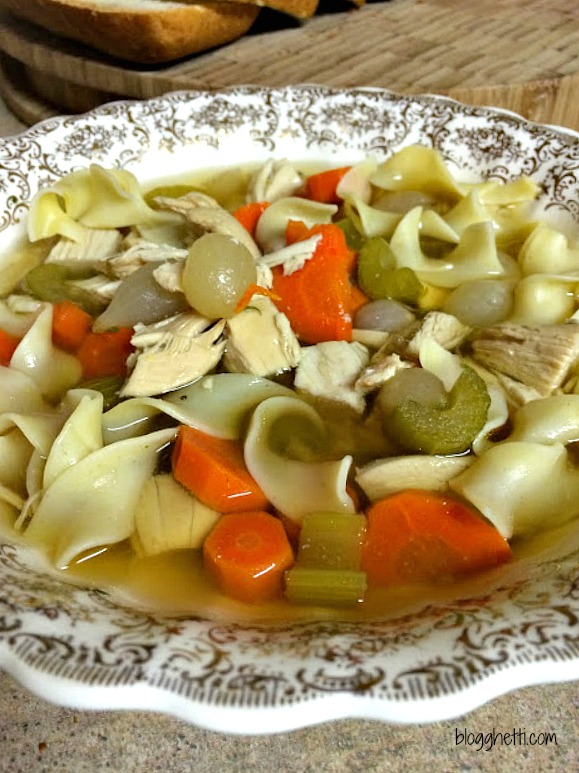 This month my family and I spent time with family in PA and while I was talking to my Dad, he shared yet another secret to Aunt Kate's Homemade Chicken Noodle Soup. Canned chicken. Yes, you read that correctly. Canned chicken. I laughed so hard and thought back to the tastes of her soup – I would have never had known this as it tasted so good!
Today seemed like a good day to think of Aunt Kate so I am making chicken noodle soup in the crock pot. It's full of veggies, real chicken (haha), chicken stock (not homemade) and egg noodles. The flavors of the herbs added bring it over the top in my opinion and it kind of reminds me of Aunt Kate's soup.

Homemade Chicken Noodle Soup (Crockpot)
Crock pot Chicken Noodle Soup is perfect during the cold weather; it's the perfect comfort food. So simple to make, wonderfully delicious, and healthy for you.
Print
Pin
Rate
Ingredients
1 1/2

lbs.

chicken breasts

boneless and skinless

2

cups

carrots

cut into coins

1 1/4

cups

sliced celery

3

garlic cloves

minced

3/4

cup

frozen pearl onions

6

cups

unsalted chicken stock

salt and pepper to taste

2

bay leaves

1/2

tsp

dried thyme

1/2

tsp

dried rosemary

1/4

tsp

celery seed

1

package no-yolk egg noodle

cooked
Instructions
Place chicken breasts into crock pot. Add carrots, celery, garlic, and onions.

Pour the chicken stock over the chicken and vegetables.

Add bay leaves and salt & pepper.

Combine the thyme, rosemary, and celery seed in the palm of your hand. As you sprinkle the seasonings into the soup, crush them between your fingers. This helps release the flavors of the seasonings.

Give the soup a bit of a mix and cover. Cook on low for 5 1/2 hours. Remove chicken and let sit on a platter for about 5-10 minutes. You want it to cool a few minutes so when you cut the chicken into bite sized pieces it doesn't just shred.

After cutting the chicken into bite sized pieces, return the chicken to the crock pot and let cook another 30 - 60 minutes or until your carrots and celery are tender but still have a bit crisp. I like the vegetables in my soup to be a fork-tender but not mushy.

To serve: place a handful of egg noodles in a bowl and ladle soup over. Enjoy with crackers or as is.

If you desire to, you can add the egg noodles to the crock pot the last 15 minutes of cooking time to reheat them. I will do this if I know there will not be leftovers. The noodles well soak up the broth too much otherwise.
Enjoy!