This post may contain Amazon or other affiliate links. As an Amazon Associate I earn from qualifying purchases. Click
here
to read our privacy policy.
A Christmas Tree Filled with Memories Made Through the Years with handmade or special ornaments keeps the memories alive in our hearts and minds.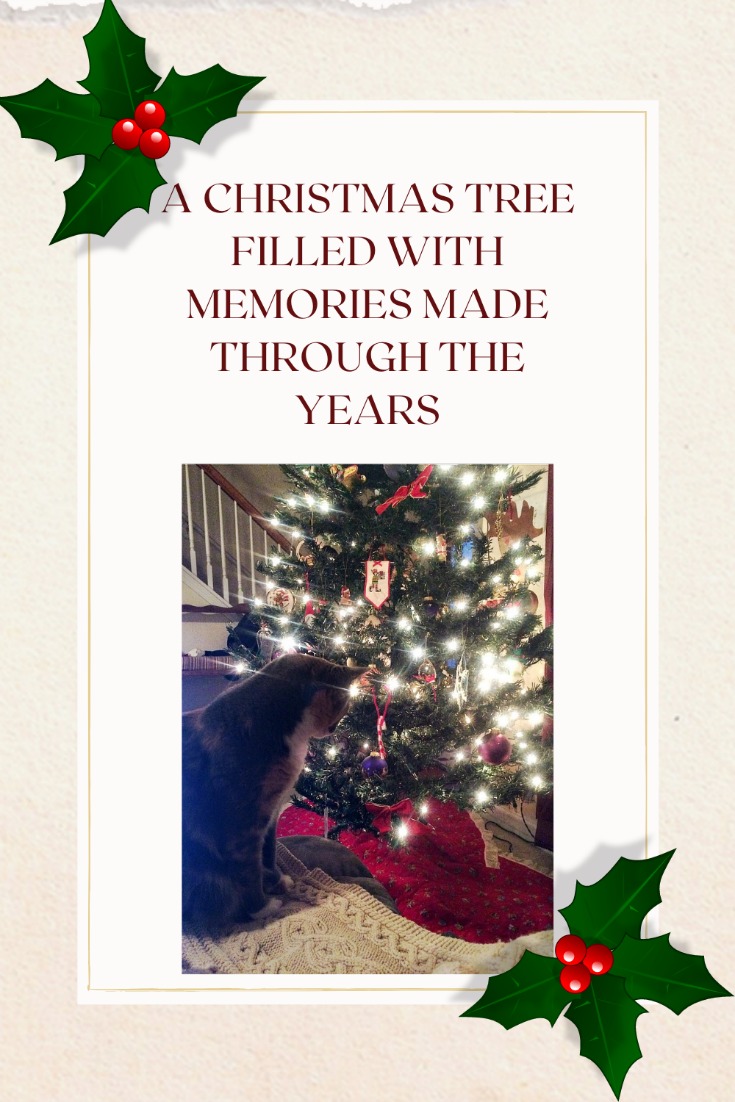 Welcome back to year 6 of our Festive Christmas Event where we team up with a bunch of talented blogging friends to bring you a plethora of creative ways to celebrate your holiday season. We will be baking some cookie recipes for you, sharing some party games, making some handmade gifts, doing some ornament crafting, and sharing our Christmas movies family fun. There will be breakfast recipes and as always our decorated Christmas Trees which is always a fun tour of homes.
New this year is Gift Guides. We are right there with you shopping from home due to COVID 19 and we understand how hard that can be so we have been busy little Elves doing tons of research to create fabulous Gift Guides to help you with your holiday shopping. You will find new ideas every Monday and Wednesday between Oct. 19th through Nov. 18th. Scroll all the way down to find all the ideas linked at the end.
Here's what I have shared so far with the event: Check out the Holiday Gift Guide of Cookbooks Written by Your Favorite Food Bloggers and this one filled with Holiday Gift Ideas for the Foodies in Your Life. If you're needing a homemade gift to give, I've shared these cute Holiday Cookie Mix Gift Sack with Printable Gift Tags. Need a fund Christmas Party game? Check out our Bobbing for Candy Canes game. Here's an easy ornament craft that anyone can make: DIY Pour Painted Christmas Ornaments. Monday, I shared my personal top five favorite Christmas movies. Today, it's all about the Christmas trees we put up each year.
A Christmas Tree Filled with Memories Made Through the Years
For as long as I can remember the Christmas trees in my life have been filled with ornaments that held some special meaning or from someone special. As a child, the ornaments on our tree were handed down from grandparents, ornaments that held meaning to my parents, and ones I made in school or scouts. Some of those handed down decorations didn't make it through the years but several have and they adorn my tree each year.
When my husband and I first married, we didn't have any ornaments yet so we bought those popular stain balls that frayed every time you touched them. They didn't last too many years. Once I got my hands on the ornaments from my parents and once we had babies, we started our own traditions with decorating the tree. First Christmas for us, first for the girls, first house, etc. One year my mother cross-stitched over 20 ornaments for us and they go on the tree each year. We've added year ornaments as well not to mention most all of the girls' decorations they've made when they were younger. There's even ornaments for the cats.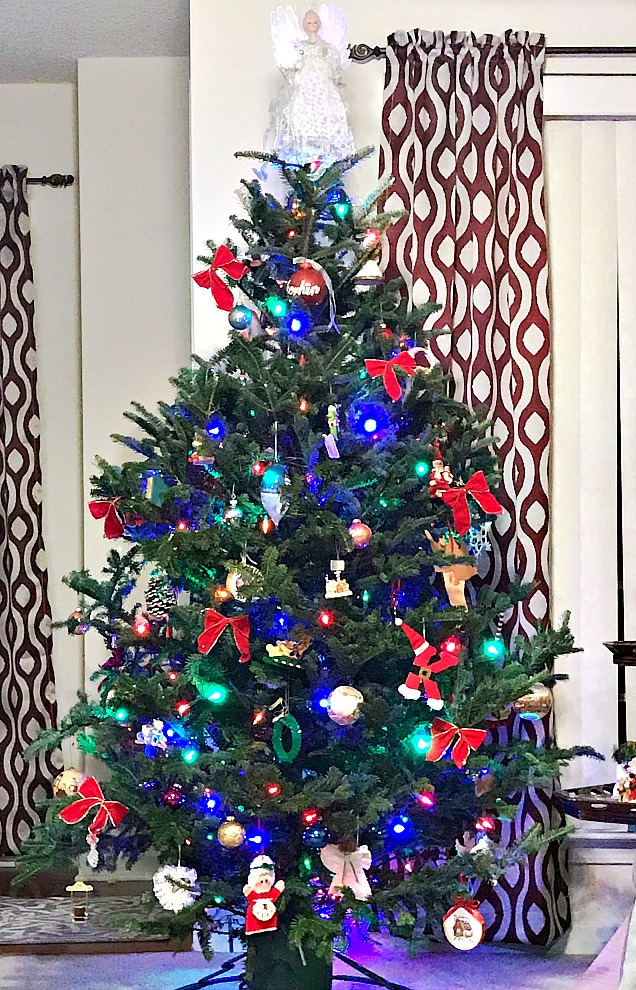 Perhaps our tree isn't the biggest, fanciest, or most expensively decorated; it is a display of love, memories, and smiles.
I tried to scour our pictures for close-ups of some of the decorations but wasn't able to find many and since we don't put up tree until the beginning of December, I don't have current photos either. I did find a few that I will share with you.
Each year we head to buy our tree and our process is simple. It has to fit in the space we have for it in the living room and the tree must just call out to us to buy it. Some years the tree is near perfect, others it may be near a "Charlie Brown" tree.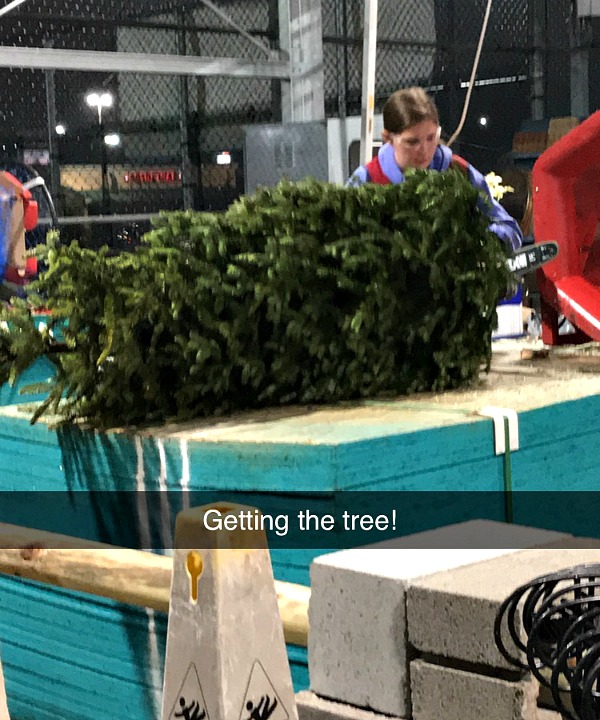 Next, we let the tree sit overnight in the tree stand to open up more before we decorate it.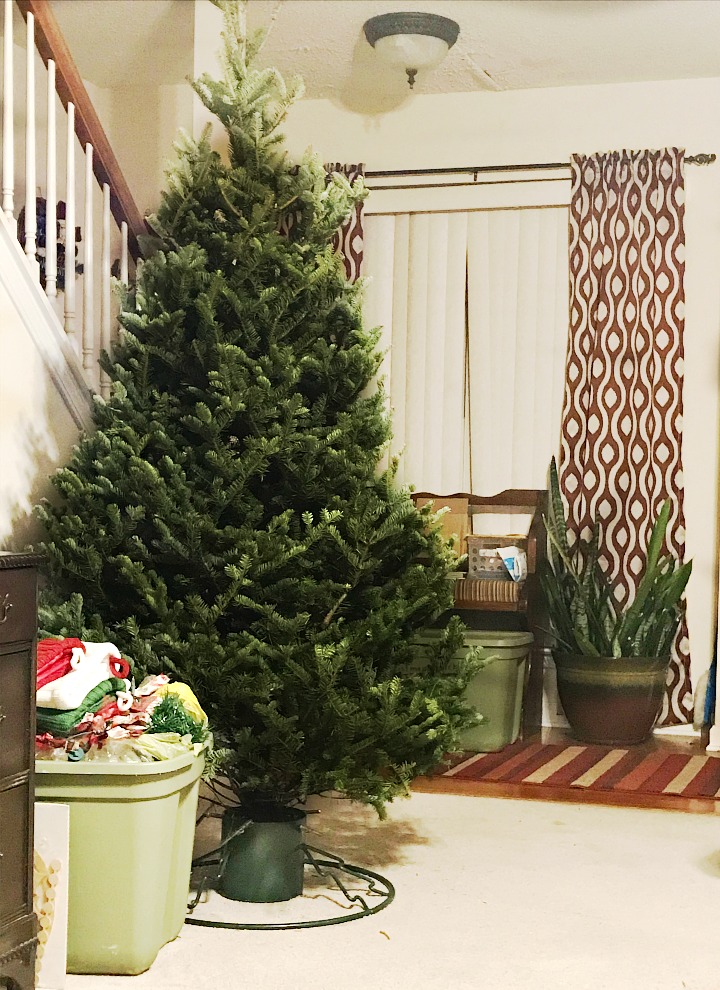 Of course, we have to get organized with the ornaments and decorations.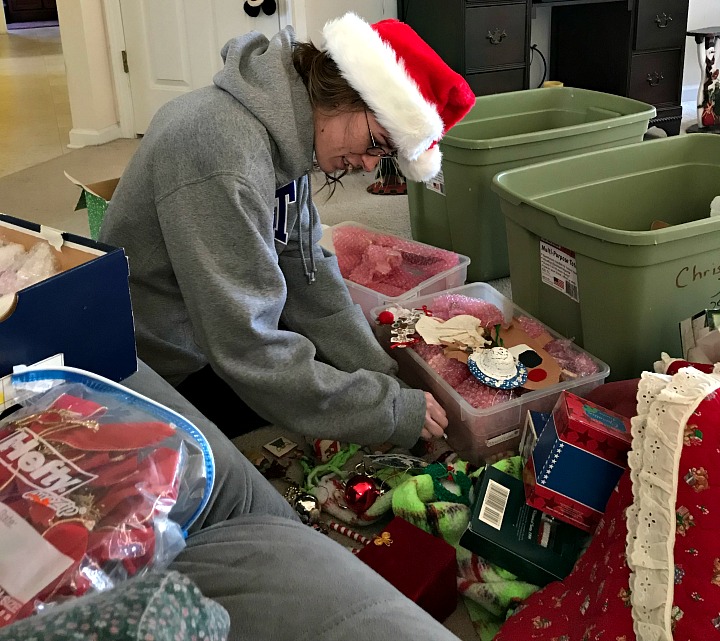 A Christmas Tree Filled with Memories Made Through the Years
We sort through them and decide where we will start. My youngest daughter sorts out the ornaments and we reminisce about the ornaments, where we got them, who made this one, or who gave them to us.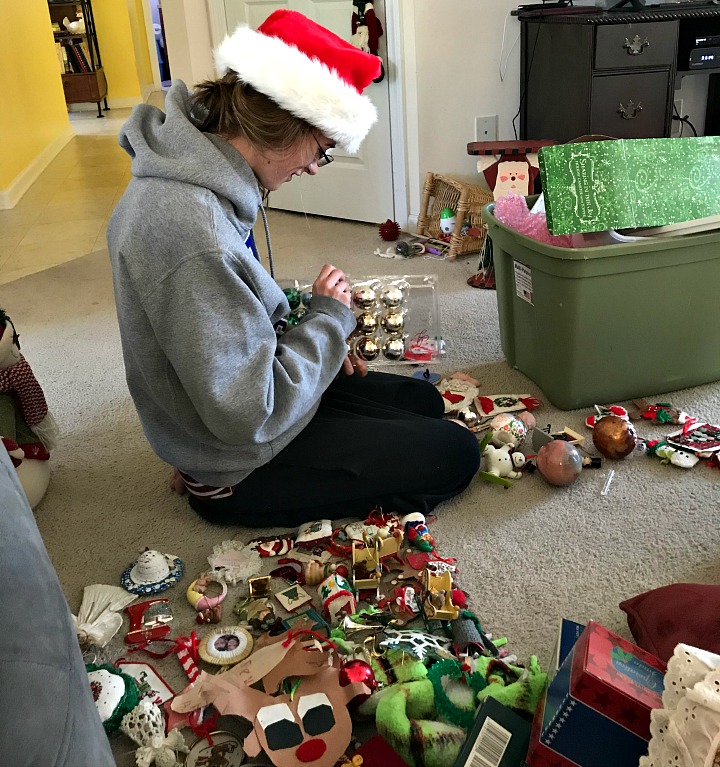 Each ornament is carefully placed on the tree.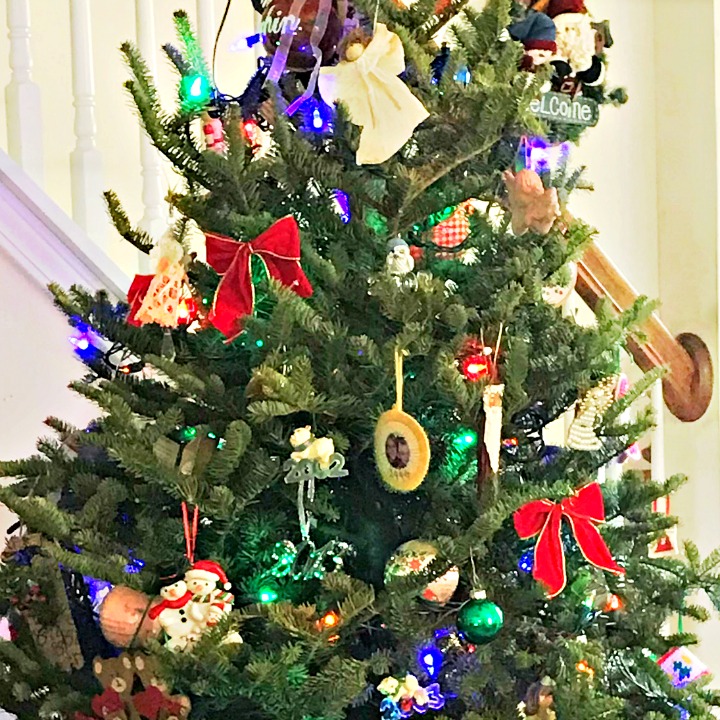 Every year we add a few new ones and the "year" ornament. 2020's ornament is being made by my daughter and will get its place on the tree when she's finished.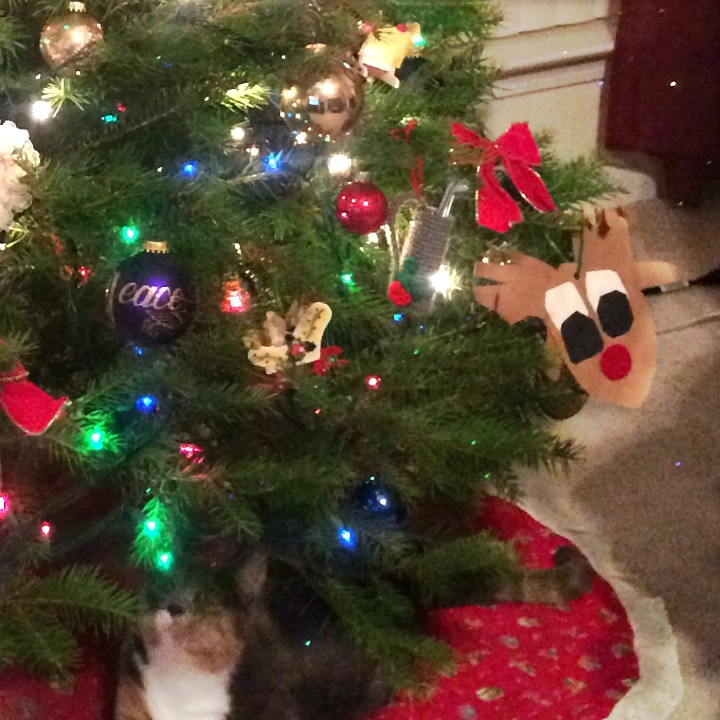 Our cat loves to be under the tree looking at the lights and even batting a few ornaments.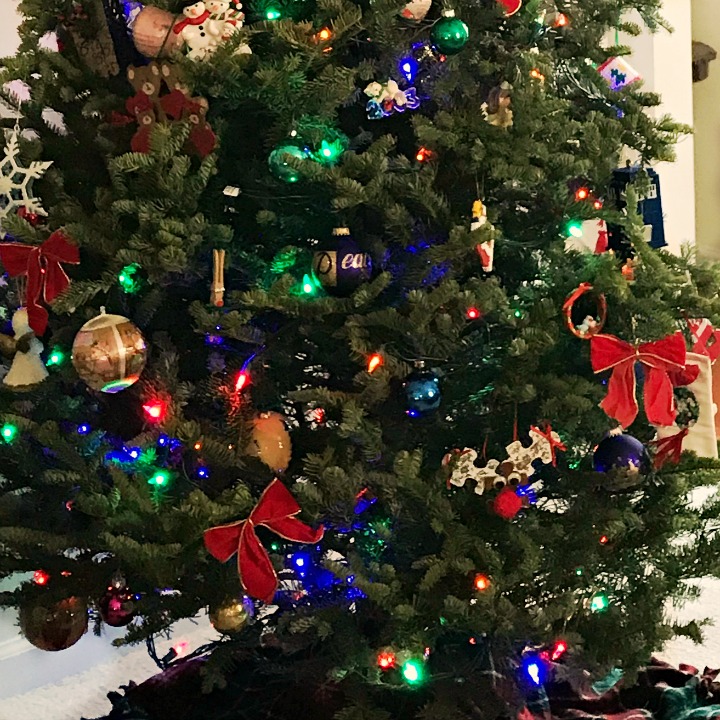 This is one of the ornaments my daughter made using the pour painting technique a few years ago.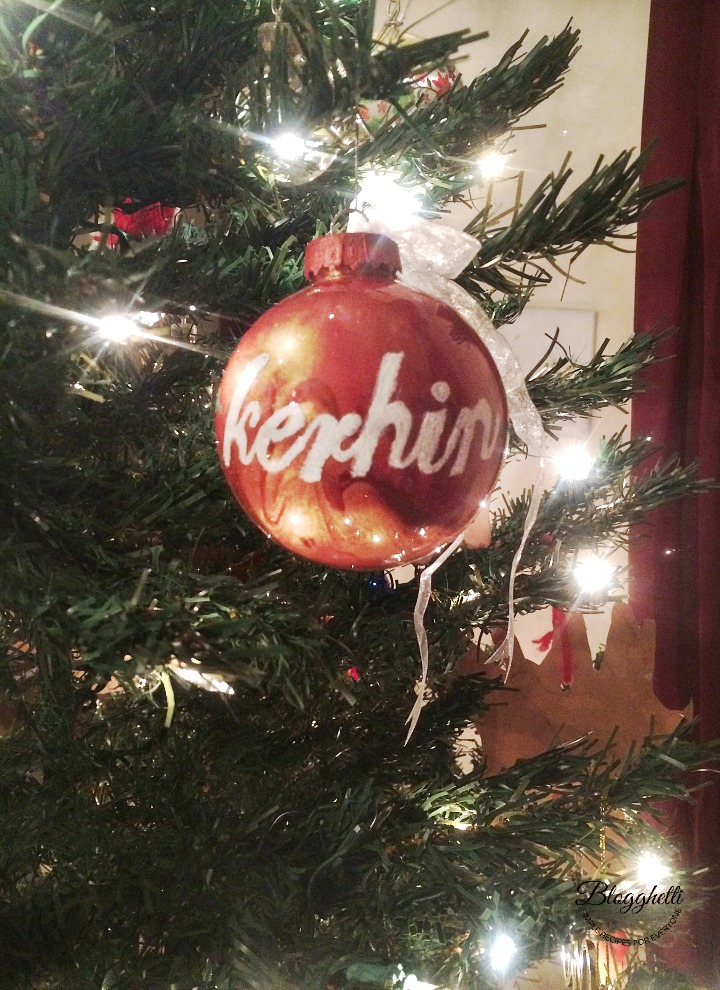 I made a new tree skirt a couple of years ago as the other one I made was nearing it's end. It was stained and tattered beyond any more repairs.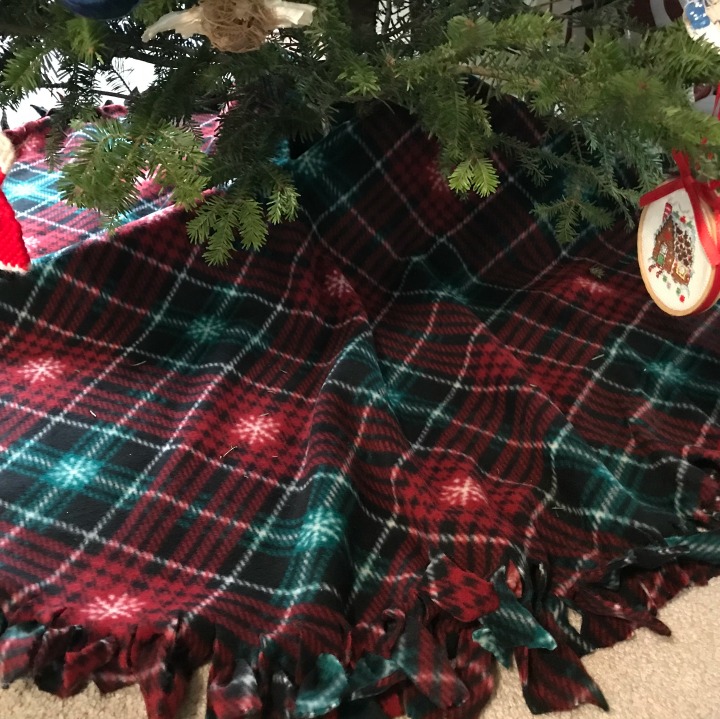 That's our tree – full of memories and love.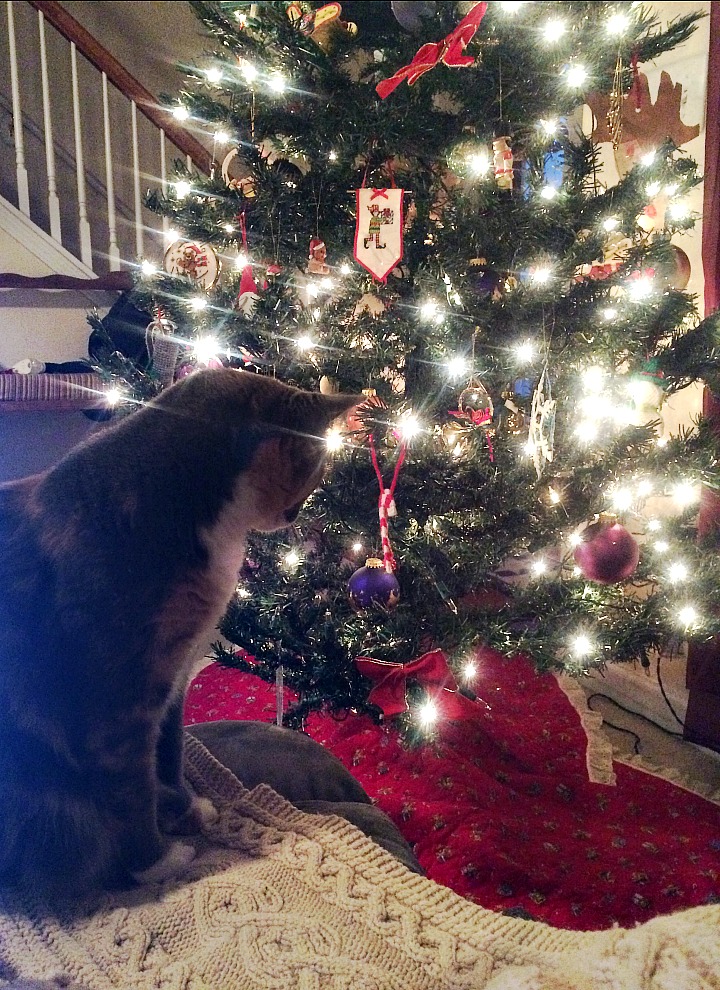 #FestiveChristmas Calendar of Events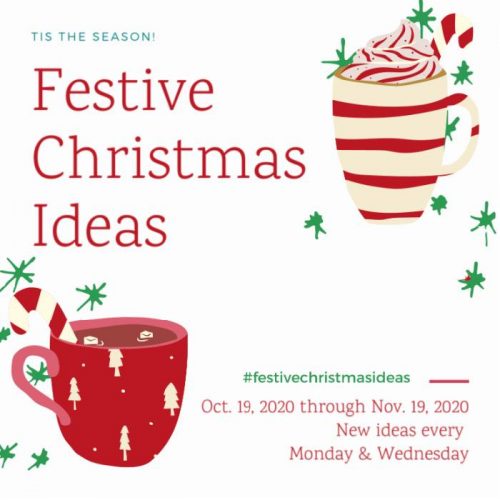 Be sure to follow #FestiveChristmas on all your social media platforms for many ideas, crafts, recipes, and more throughout the event.
Here is a list of what's to come:
Oct 19 and 21: Gift Guides
Oct 26: Handmade Gifts
Oct 28: Games
Nov 2: Ornament Gifts
Nov 4: Christmas Movies
Nov 9: Christmas Tree
Nov 11: Christmas Decorations
Nov 16: Baking Cookies
Nov 18: Christmas Breakfast
Participating Bloggers and Today's Links
Animal Crossing Christmas Tree My Pinterventures
Simple Silver & Gold Christmas Tree Decorations Intelligent Domestications
3D Felt Christmas Tree Creative Cynchronicity
Tips for Decorating a Small Christmas Tree Farm Girl Reformed
Small Christmas Tree for the Bedroom Little Vintage Cottage
Slim Flocked Christmas Tree An Alli Event
Louvered Door Slat Tabletop Christmas Tree Interior Frugalista
Rustic Minimal Christmas Tree Mom Home Guide
Coastal Christmas Tree Across The Blvd.
How to Create a Unified Look on an Eclectic Christmas Tree Tikkido
Black and White Christmas Tree Domestically Creative
2020 Candy Christmas Tree Craft Rocker
Rustic Christmas Tree As For Me and My Homestead
Washtub Christmas Tree Skirt Coffee With Us 3
A Christmas Tree Filled with Memories Made Through the Years Blogghetti
Woods and Silver Christmas Tree Polka Dot Poplars
Crochet Filled Christmas Tree Eye Love Knots
Purple Hues Christmas Tree Purple Hues and Me
Festive Outdoor Christmas Trees Domestic Deadline
How To Decorate A Stunning Christmas Tree – 5 Easy Steps My Humble Home and Garden
How to Make a Super Easy Paper Christmas Tree! Our Sutton Place
Neutral Farmhouse Christmas Tree Pretty DIY Home
Grinch Christmas Tree From House to Home
Mickey Mouse Christmas Tree Simply Inspired Meals
Christmas Tree Trends for 2020 Christmas Tree Lane
Connect with
Blogghetti

! Be sure to follow me on my social media, so you never miss a post!

Facebook | Twitter | Pinterest | Instagram

Enjoy!