This post may contain Amazon or other affiliate links. As an Amazon Associate I earn from qualifying purchases. Click
here
to read our privacy policy.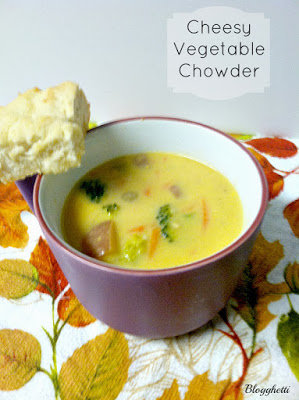 When I first made this soup, I was a bit hesitate as hubby doesn't really care for creamed soups but I thought it sounded too good to pass up. He would just have to deal with it. Besides, the weather has turned chilly outside so a hot bowl of soup is just perfect. I wasn't disappointed with this soup, it is great! Not too creamy so hubby really enjoyed it, too.

Most creamed soups call for heavy cream but this one uses milk and it thickens with the flour to a perfect thickness. It's in the middle of a soup consistency and a creamed soup. The dash of nutmeg adds that "what is this flavor" factor. Pair the soup with a grilled cheese sandwich or a biscuit, such as these Butter Dips, on the side.
1 cup frozen pearl onions
1 cup finely chopped carrot
2 stalk celery, finely chopped
1 1/2 cups of diced red potatoes, skins on
2 cups chopped fresh broccoli
2 cups shredded sharp cheddar cheese
Salt and pepper, to taste
dash of nutmeg (No, this isn't a mistake)
Instructions:
Melt the butter in a Dutch oven or a large soup pot.
Add onions, carrots, and celery and saute over medium heat until tender.
Add garlic and cook 1 or 2 additional minutes.
Add chicken broth and potatoes, season with salt and pepper. Bring to a boil, reduce heat and simmer till potatoes are just about tender. You don't want to fully cook them at this point. Just enough for a fork to start to go through them easily. Add the broccoli at this point.
Mix flour with water, add, and simmer until soup is slightly thickened.
Add milk, dash of nutmeg and cook until broccoli and potatoes are tender and soup is heated through.
Add additional salt and pepper if needed.
Stir in cheese, allow to melt, and serve.
Enjoy!