This post may contain Amazon or other affiliate links. As an Amazon Associate I earn from qualifying purchases. Click
here
to read our privacy policy.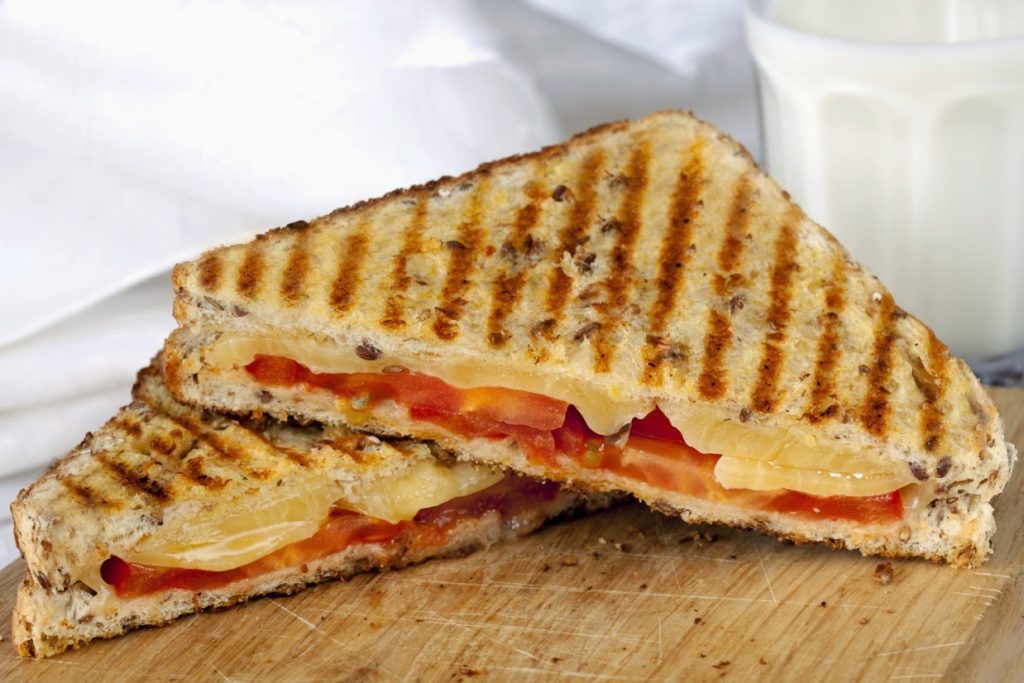 Today's post is a first for Blogghetti – The first guest post and is brought to you by Katie from Hefty.com. She's bringing us great ideas for an old favorite, the grilled cheese sandwich. Growing up I remember having a grilled tomato and cheese sandwich at the local five and dime store with my parents. It was a treat for me as we didn't eat out often. Today, I love the same sandwich with a hot bowl of tomato soup to dip it in. I think I just may have to make some soup and pick one of the ideas from Katie's post to try. Read on for her post.
Dinner doesn't have to be complicated in order to be delicious! With the cold weather that we've been having, though, it's nice to have something warm and comforting, too. A grilled cheese night could be an easy, fun alternative. Grilled cheese sandwiches can be made with all sorts of ingredients, try out some of the following ideas (you can even mix and match):
Bacon–Bacon can be a great addition to many dishes, and it is not a new ingredient for sandwiches by any means. Select a different type of bacon than you usually choose if you're feeling adventurous.
Prosciutto—While similar to bacon, prosciutto adds a slightly different flavor to a tried-and-true sandwich like the grilled cheese. Also, prosciutto does not need to be cooked, so this could be a quicker alternative to bacon.
Spinach—If you decide to add spinach to your grilled cheese, sauté fresh spinach with a small amount of olive oil or butter. Frozen spinach could be used, too, if that is what you have on hand.
Tomatoes—Grill slices of tomato on a grill pan to remove excess water before you add them to your sandwich. That way, your grilled cheese won't be soggy!
Bell Peppers—Sliced and sautéed bell peppers might be just what you're looking for if the previous ideas haven't tempted you.
Mushrooms—Fresh or canned sliced mushroom are another great way to add flavor to your grilled cheese. This ingredient should be sautéed, too.
Pear—Slices of pear might seem like an unlikely choice when compared with the previous ingredients, but it tastes great when combined with Gruyere cheese.
Cheese—What would a grilled cheese sandwich be without cheese? Try everything from brie to cheddar to goat cheese.
Bread—This is another ingredient that you can experiment with—you could choose multigrain, rye, sourdough, or something else completely.
After preparing your chosen ingredients, combine together and grill as you would normally make a grilled cheese sandwich. Just as making dinner can be simple, clean-up after dinner doesn't have to be a pain, either. Use foam plates and other disposable tableware to help save you time.
Author Bio: This is a guest post by Katie F. on behalf of Hefty®. Visit www.hefty.com to find products like trash bags and more that can help you out with your busy life.
Enjoy!