This post may contain Amazon or other affiliate links. As an Amazon Associate I earn from qualifying purchases. Click
here
to read our privacy policy.
Looking for easy and delicious meals? Have you tried HelloFresh? All of the ingredients for delicious meals delivered to your door for you to cook without any fuss, just goodness.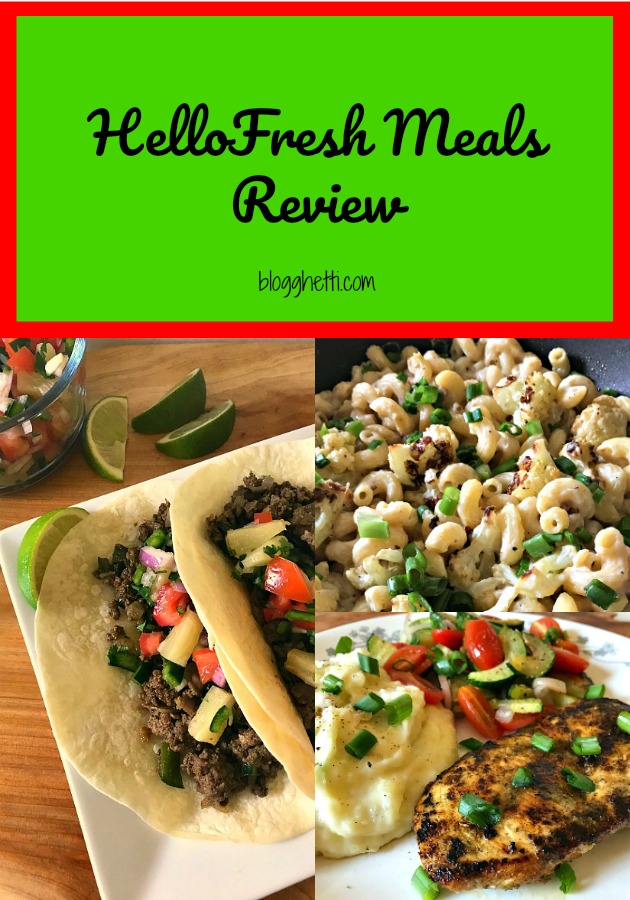 I'm all for simple meals that are flavorful and delicious. I'm betting you are as well, and maybe you have tried one of the many meal plans that bring the fresh ingredients to your door already. I never have until recently when I was given a free code from my daughter for three meals to try from HelloFresh. I was game to try them since I do love an easy meal idea and recipes that cook up fast.
The plan is pretty straightforward with you choosing the number of meals you want a week for the number of people in your family. HelloFresh has several meal types to choose from, including vegetarian, low-calorie diet, and their classic meal choices. Once you have selected your meals, you sit back and wait for them to arrive to your door. Anytime you want to skip a week, you simple pause the program until you are ready to start it again. Great for when you are going on vacation or just have other menus planned for dinner. Plus, you can cancel anytime with no strings attached. Simple.
I was totally impressed in the packaging of the meals I received, the box arrived when it was supposed to, and everything was fresh. The meats were all on the bottom of the box covered with dry ice and on top of that was the rest of the ingredients all chilled and safely packed. I chose three meals for two people the week I tried the program. The three meals we ate were: Pancetta Cauliflower Mac and Cheese, Pineapple Poblano Beef Tacos, and So Delizioso Chicken Cutlets.
The Pancetta Cauliflower Mac and Cheese was good, but we thought it needed more cheese as it wasn't cheesy enough for us. It did cook up easy enough and the directions were spot on. With any recipe that I try for the first time, I follow all of the directions exactly and I will admit I did use the same pot to cook the pasta as I did for making the cheese sauce. I didn't want the extra pot to wash. Would I make this meal again? Yes, but I would make more cheese sauce, add a dash or two of hot sauce, and a dash of nutmeg. My husband requested a meat to be served with it as well, since he wasn't that fond of just mac and cheese for dinner, haha!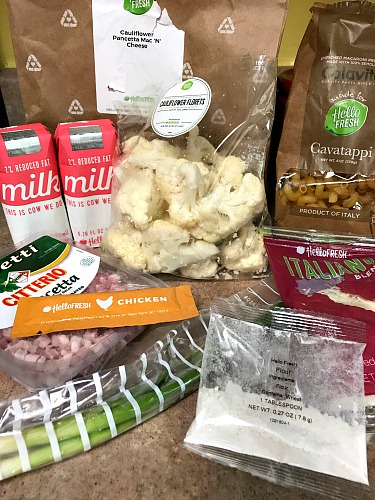 Next up was So Delizioso Chicken Cutlets and this was a meal that I will be making over and over again with a few changes. We love making mashed potatoes with cheddar cheese in them so this version with a blend of Italian cheeses was a tasty change. My suggestion for the potatoes would be to use milk to make them more creamy, instead of the reserved cooking water from the potatoes. The roasted vegetables were delicious and tender-crisp. I loved the Italian seasoning blend that is used for the chicken cutlets and wished there had been a bit more of it to sprinkled over the vegetables, but the amount given was perfect for the chicken. The chicken was pan-cooked and turned out moist, tender, and the addition of the lemon juice and butter sauce at the end was yummy. My only issue with this meal is that it could have used a longer marinating time for the chicken, and maybe roast the vegetables in the oven to give them more flavor.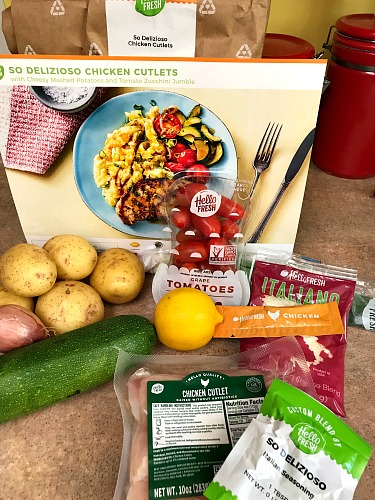 Lastly, we made the Pineapple Poblano Beef Tacos and enjoyed them for the most part. We're used to a bit spicier beef taco and the taco seasoning wasn't spicy enough for us. That being said, the pineapple salsa was amazing and I could have eaten that out of the bowl with a spoon. I would say if you are good with a mild taco seasoning, this is great, but if you love a spicier version, add some more chili powder and cayenne pepper, too. As for making this meal again, yes to the pineapple salsa but with my taco seasoning for the beef.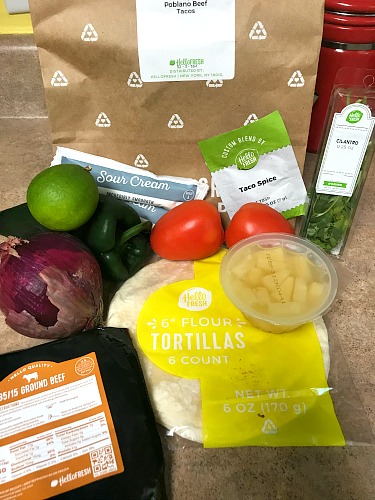 Overall, I am impressed with the meals and in the future would probably order from them again. Having cooked three meals from their recipe collection, I plan on trying more of them. You just might see some on the blog, too! Here's my disclaimer for the post: I wasn't compensated by HelloFresh for my review and my opinions are my own.
Enjoy!