This post may contain Amazon or other affiliate links. As an Amazon Associate I earn from qualifying purchases. Click
here
to read our privacy policy.
This marinade can be used on Pork, Beef, Chicken, or Salmon. I have used it on a beef London Broil or Flank Steak, pork tenderloins, and chicken breasts. Method of cooking – grill, roast, broil. You can also change the herbs to suit your taste or mood. I always keep the basil and rosemary in the marinade but change up the other herbs and spices. The marinade, made in any way, has yet to fail in taste!
Hands down, this beats the store bought marinades with all the sodium and other not-so-good-for-you ingredients or the mixes that have you pouring so much oil in there that you feel like you are seeping oil out your pores. You know what I mean! Nothing beats fresh and homemade!
I also make a few batches when the herbs are on sale and freeze the marinade in a freezer Ziploc bag. Just break off what you need, let it thaw (takes minutes) and then spread it on your choice of meat and refrigerate for several hours. We have a college age daughter who loves this marinade on steak and chicken so I whip up batch and spread it on the meats and freeze it in individual portions. She just has to thaw and grill on her George Foreman. Easy!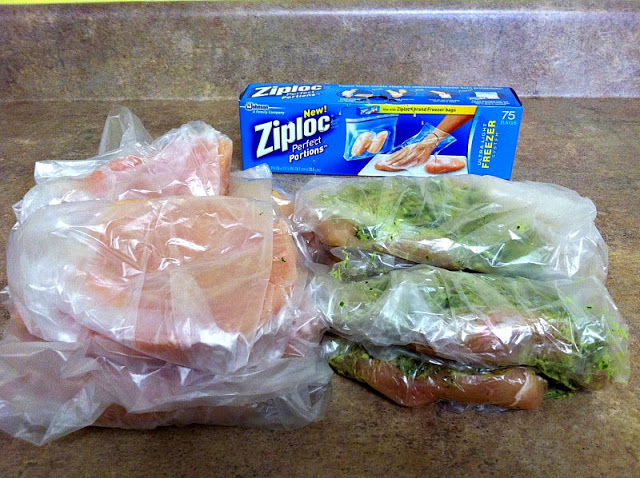 Love the Perfect Portion bags from Ziploc!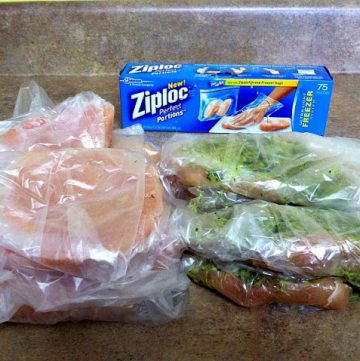 Ingredients
1/2 - 1

cup

fresh basil

depends on your tastes

1/4

cup

olive oil

3

tbsp

fresh rosemary leaves

3

tbsp

fresh thyme leaves

3

tbsp

fresh oregano

2

tbsp

finely shredded lemon peel

optional

10

cloves

garlic

minced (yes this is a lot, cut back if you aren't a fan)

1/2 to 1

tsp

crushed red pepper

again depends on your taste

1/2

tsp

kosher salt

1/4 to 1/2

tsp

freshly ground black pepper
Instructions
If you don't have the fresh herbs, you can use dried just use less of each. I don't often have the fresh thyme or oregano so I just use dried.

Also, the lemon peel, if you don't have lemons you can buy grated lemon peel in the spice section of your grocery store. It's a bit pricey but I use it for a few other recipes and it lasts a long time. Tastes just as wonderful with the dried herbs and with or without the lemon peel.

Combine all ingredients in a food processor and process till a thick paste, scraping side of bowl as needed.

To use as a marinade, spread over 2 pounds your choice of meat or salmon steaks.

Cover and chill 4 to 24 hours.

Grill, roast, or broil.
Enjoy!