This post may contain Amazon or other affiliate links. As an Amazon Associate I earn from qualifying purchases. Click
here
to read our privacy policy.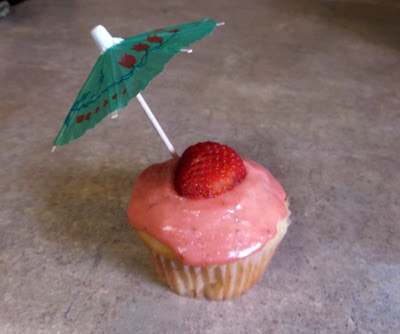 Today is my oldest daughter's 22nd birthday and I am surprising her with these wonderful cupcakes. As I was making them, I kept thinking, "What did I get myself into?" The cupcakes come with a warning – it is a project, be sure to have at least 3 hours to make these. Yes, I said 3 hours. Don't worry, they are worth it! I cheated a bit and used a boxed vanilla cake mix instead of making the cupcakes from scratch. I have included the recipe for the cupcakes as I saw it in the recipe in case you so inclined to make them from scratch. Along the way I have included a few notes that I made while making this recipe. There's a strawberry buttercream filling and it's frosted with strawberry curd…oh so good.
I found the recipe from Cosmo Cookie and I cannot wait to see what else the site has to offer!
Below are the basic steps to making the cupcakes:
How to Make Strawberry Daiquiri Cupcakes
Make Vanilla Cupcakes (recipe below). ** I used a boxed vanilla cake mix – why you ask? I had it on hand.
Poke holes in the tops of the cupcakes with a fork. ** Do this gently as the cupcake will tear.
Cut out center of cupcakes with a knife and fill with Strawberry Buttercream (recipe below). Replace cutouts onto cupcakes. ** Don't fill the hole completely up with filling so that the cutout will fit flat.
Mix 1/2 cup simple syrup (recipe below) with 2 tablespoons of rum. Brush mixture over the cupcakes.
Spread Strawberry Curd (recipe below) on the cupcake tops.
Garnish with a strawberry and a paper umbrella.
More pictures after the recipes.
RECIPES:
Vanilla Cupcakes
adapted from My Baking Addiction
yields 2 dozen cupcakes or 6 dozen mini cupcakes
Ingredients:
2 1/4 cups unbleached, all-purpose flour
1 tablespoon baking powder
1/2 teaspoon salt
1 1/4 cups milk
4 large egg whites
8 tablespoon (1 stick) unsalted butter
1 1/2 cups sugar
2 teaspoons pure vanilla extract
Directions:
Preheat oven to 350 degrees F. Line cupcake pan with paper liners.
In a large bowl, sift together the flour, baking powder and salt. In a medium bowl, whisk together the milk and egg whites.
In a large bowl, beat the butter and sugar at medium speed until the butter and sugar are very light and fluffy. Add in the vanilla extract and one third of the flour mixture, still beating on medium speed. Beat in half of the milk-egg mixture, then beat in half of the remaining dry ingredients until well incorporated. Add the rest of the milk and eggs, beating until the ingredients are fully incorporated and the batter is smooth. Then add the last of the dry ingredients, beating until, yes, that's right, the ingredients are fully incorporated.
Using a large scoop/spoon, distribute the batter between the muffin trays, filling each muffin liner until 1/2 to 2/3 full.
Bake for 20-24 minutes for cupcakes, and 16-18 minutes for mini cupcakes, or until a toothpick inserted into the centers comes out clean. Cool on wire rack. While cupcakes are cooling, make Strawberry Buttercream.
Strawberry Buttercream
adapted from Confessions of a Tartyields about 1 1/2 cups frostingIngredients:
1 sticks (8 tbsp) of butter, room temperature
1/2 cup strawberries, pureed (I measured out the strawberries first and then pureed them) ** I actually added a few more strawberries than a ½ cup.
2 cups powdered sugar
Directions:
Cream the butter in the mixer on medium-high speed for about 3 minutes. On slow speed, gradually add about 2 cups of powdered sugar and turn back up to high for a few minutes to really incorporate the sugar. Turn to slow speed again and fold in the strawberries. Add more sugar until desired consistency is achieved. Once all the sugar is incorporated, turn to medium-high for a few minutes to mix well.
** I added about a ½ cup more of sugar so the filling would be a bit thicker.
Simply Syrup
yields 1/2 cup simple syrup
Ingredients:
1/4 cup water
1/4 cup sugar
Directions:
Heat sugar and water in a saucepan over medium heat until sugar has dissolved.
Strawberry Curd
yields about 1 1/2 cups curd
Ingredients:
2 cups sliced strawberries
1/2 cup sugar
2 tablespoons cornstarch
1 tablespoon lemon juice
3 large egg yolks, lightly beaten
1/4 cup (4 tablespoons or 1/2 stick) butter, cut into pieces
Directions:
In a food processor or blender pulse strawberries until smooth. Strain through a fine strainer to remove seeds.
In a heavy saucepan, combine sugar and cornstarch. Add strawberry puree, lemon juice, and egg yolks. Cook over medium heat for 7 to 8 minutes, or until very thick, whisking constantly.
Remove from heat. Gradually add butter, whisking until melted. Let cool. Place in a jar and store in refrigerator. ** Chill till consistency is thick enough to frost without it dripping. I chilled mine for about an hour.