This post may contain Amazon or other affiliate links. As an Amazon Associate I earn from qualifying purchases. Click
here
to read our privacy policy.
Super busy these days with my office/craft room makeover and classes so I love my crockpot even more. I'm hoping to get some pictures of the room makeover up soon but it's slow going. My wonderful husband added a couple of shelves in the closet for me and I was trying to find inexpensive ways to buy containers or baskets to contain all of my crafting supplies. At the moment they are all just thrown into a couple of three drawer plastic chests plus boxes and bags all thrown into a hall closet with no light! I was in the dollar store and found some great sturdy plastic containers that I am sprucing up with some paint. Once I get into my craft-mode I don't come up for air much and the time flies by. Before I know it someone is always asking "what's for dinner" and I give them the look that says "what are you making".
This particular day I also was cleaning out the refrigerator and came across a bottle of Italian salad dressing that needed to be used up. I remembered that I saw a recipe from The Magical Slow-Cooker's cookbook that had fresh green beans, red potatoes, and chicken. I knew she used a different dressing to cook it in and while it is delicious, I had to use up this Italian salad dressing. I adapted her recipe for my dinner that night and wow, was it good! A whole meal slow cooked all day while I got to craft! Can't beat that!
Please note that when cooking chicken in the crockpot, it does come out looking rather plain but it is seasoned well and tastes great; the potatoes were fork-tender. Also, sometimes the green beans can turn out overcooked but mine still had a bit of a bite to them after 5 hours with my 6 quart crockpot.
All this freshness is so good and the recipe is super simple!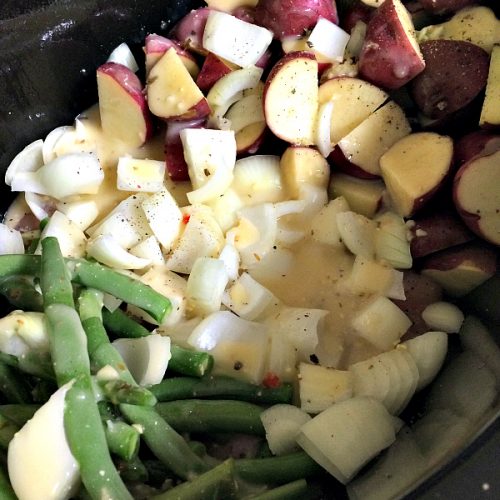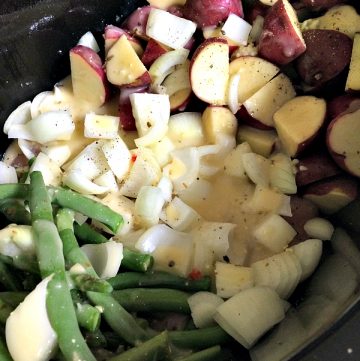 Ingredients
1 1/2

lbs.

boneless

skinless chicken breasts

4

cups

diced red potatoes

2

cups

fresh green beans

(larger beans trimmed and cut in half)

2 -3

cloves

garlic

minced

1

medium onion

roughly chopped

8

oz.

Italian salad dressing

I use Olive Garden's Light salad dressing

ground pepper

to taste
Instructions
Spray crockpot with non-stick spray.

Place chicken breasts in the middle in a single layer in the crockpot.

Place diced red potatoes on one side of the chicken and the green beans on the other side.

Top with minced garlic and chopped onion.

Pour the Italian salad dressing over top of all the chicken and vegetables.

Add pepper, to taste.

Cook on low for 4 - 6 hours till chicken is cooked through and potatoes are tender.

If desired, you can shred the chicken. I like to leave it whole but it is very tender and most likely will fall apart while taking out of crockpot.
Enjoy!