This post may contain Amazon or other affiliate links. As an Amazon Associate I earn from qualifying purchases. Click
here
to read our privacy policy.
It's back to school time! This year, give the kids healthy and fun lunches that they will want to eat. Here are 15 easy and healthy school lunch ideas, including a few fun printables.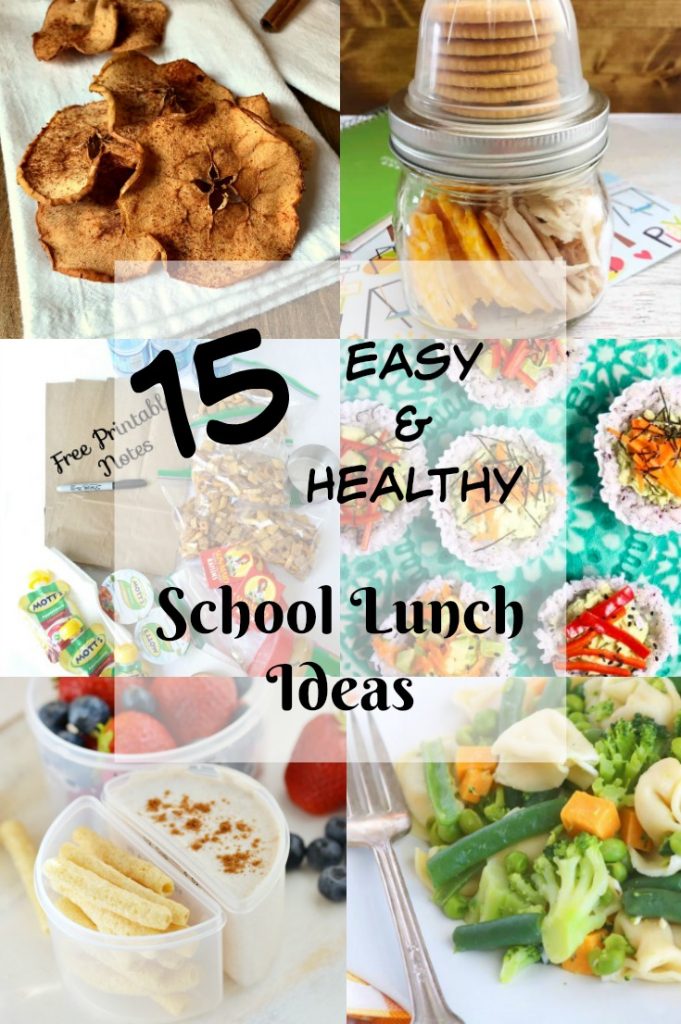 Growing up, I can remember taking packed lunches to school that were simple, and boring – but I had a lunch so who was I to complain! I also remember the days when I would buy lunch in the cafeteria (back when the lunch ladies actually cooked all of the food in-house) and loved all of the meals. My girls didn't have the same experience with school cafeteria lunches, so I often packed their lunches and tried to make them healthy, fun, and threw in a few surprises from time to time. As they got older and entered middle school and high school, they opted for buying lunch (wasn't cool to pack?), or bring their own packed lunches. They weren't always 100% healthy, but they did at least have one or two foods in there that were.
Today, on the Back to School Series, I'm sharing 15 Easy and Healthy School Lunch Ideas that your kids will want to eat, and you will feel good about sending them off to school. Also, thrown in the mix are a few tips and ideas for what to include in lunches, plus printables for lunch box notes. If you missed the first post in the series, 30 Easy to Make 0n-the-go Breakfast Recipes, be sure to check that out as well.
15 Easy and Healthy School Lunch Ideas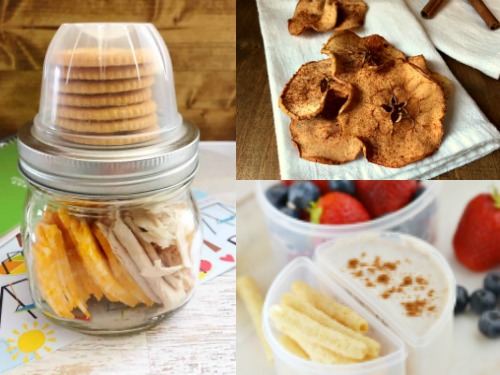 Mason Jar Lunchables from Savings Lifestyle are a cute, inexpensive, and can be made ahead of time.
Healthy Cinnamon Apple Chips from Blogghetti are crisp, healthy, and sweet.
Cinnamon Yogurt Dippers from Finding Zest are terrific for lunches. Kids love to dip foods and using yogurt is a healthier option.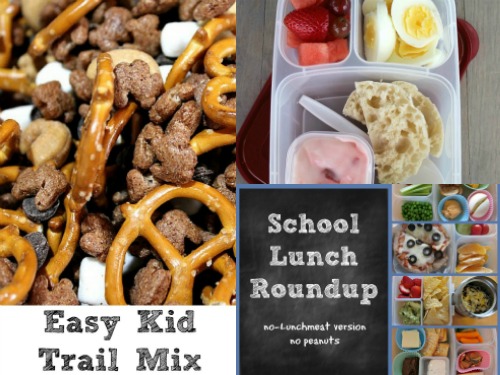 Easy Kid Trail Mix from Cook*Eat*Go is the perfect snack mix for kids (of all ages) and a great addition to the lunch boxes.
A great Lunch Idea for Kids are Breakfast Sandwiches and this yummy idea from Eating on a Dime is one kids will love. Who doesn't love breakfast for lunch?!
Check out this School Lunch Roundup from Moneywise Moms! Five great ideas for lunches plus prep tips!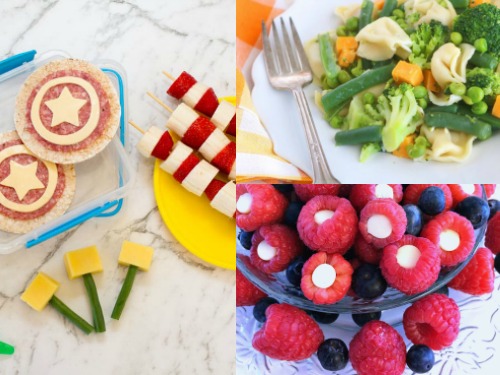 Make lunch fun! You'll be a hit when you make this Avengers Themed Lunch from Meraki Mother!
Tortellini pasta salad loaded with green vegetables and cheese from The Anthony Kitchen is super kid-friendly and healthy! Bonus: no mayo!
Every lunch needs a little something sweet and these White Chocolate Stuffed Raspberries from Blogghetti are just that.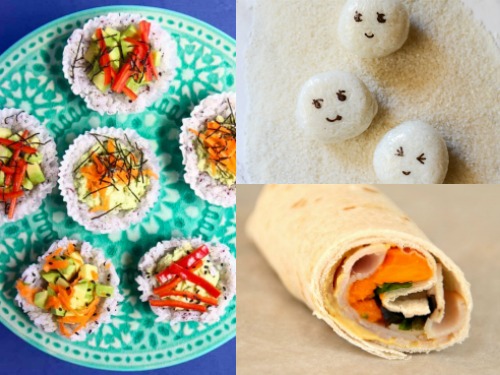 I just love how cute and fresh-looking these Muffin Tin Sushi Cups from Rhian's Recipes look, and they are healthy!
Onigiri (Rice Ball) Emojis for School Lunches from Tikkido are a fun way to brighten up a lunch!
Wraps are a great way to make a sandwich less boring and these Mesquite Turkey, Mango and Pepper Jack Cheese Wraps from Shockingly Delicious are definitely not boring! I love the combination of fruit with the meat and cheese.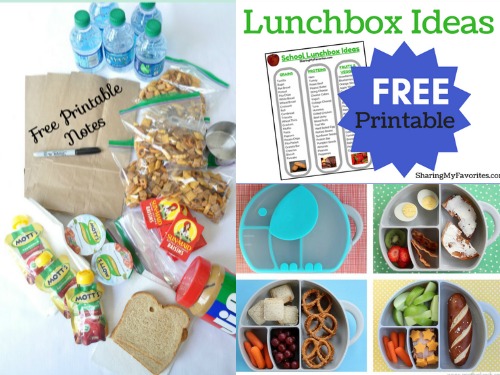 Packing lunches the night before is great, but packing the lunches for the week all on one day, as Crafting a Family shows us, will save even more time! Check out the cute printable notes and get the quick tips to packing lunches for the week.
Creating appealing and appetizing school lunches doesn't have to a chore or boring for us parents or our children. Blogghetti has tips for packing hassle-free and healthy lunches for any kid.
With a little prep and creativity, parents can make healthy and fun lunches for their kids, and save time so they don't feel rushed in the mornings. Bonus points because you will know what your child is eating for lunch!
Check out the other posts in the Back to School series:
30 Easy to Make on-the-go Breakfast Recipes
17 Awesome Back to School Organizing Strategies (plus printables)
Enjoy!