This post may contain Amazon or other affiliate links. As an Amazon Associate I earn from qualifying purchases. Click
here
to read our privacy policy.
This Christmas the ham I purchased to be the star of the meal didn't disappoint me, it was delicious. Glazed with a pineapple, Dijon, and brown sugar mixture this ham was the best we've had in awhile. Plenty leftover for meals and a casserole. I based this recipe on the size of ham I had, but adjust to the size you may have.
Ingredients:
1 – 10 pound ham, bone in. (I like Smithfield's)
1/2 – 1 can of crushed pineapple
1 cup of packed brown sugar
2 tbsp Dijon mustard
can of soda (I use whatever we have on hand, Coke, Sprite, etc. – this year is was a can of Fresca)
whole cloves
Directions:
Preheat oven to 325 degrees. Spray roasting pan with non-stick spray
Prepare ham but cutting of visible fat and skin. Stud with cloves. There are never too many, so just put as many as you like.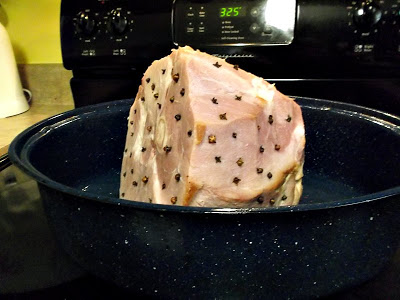 Place ham in roasting pan and pour the can of soda over it.
Bake in oven for a total of about 2 1/2 – 3 hours. When ham is 2/3 done, mix up the brown sugar, mustard, and pineapple in a bowl. You want to be on the thicker side so start with 1/2 can of the pineapple and add accordingly. If needed, add a bit more brown sugar.
Baste ham with half the mixture. Baste again when it has about 30 minutes left.