This post may contain Amazon or other affiliate links. As an Amazon Associate I earn from qualifying purchases. Click
here
to read our privacy policy.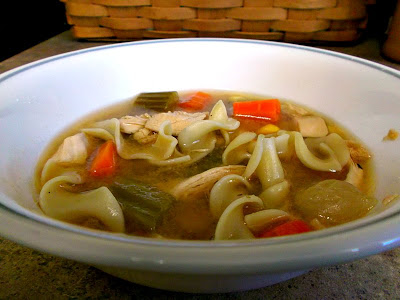 We're starting to have chilly mornings, warm afternoons and back to chilly in the evenings here in Georgia. This is our Fall, folks…I woke up with the heat on to take the chill off of the house and was thinking about that first cup of hot coffee or tea to warm me up. While I am waiting for the coffee or tea to brew, I planned my day and this of course, includes what to make for dinner. Of course, my mind wanders to soup! Pulling out my crockpot,I decide on chicken noodle soup. I have never made it in the crockpot before and to tell the truth, my stove-top chicken noodle soup isn't all the "homemade" – it's more chicken noodle starter mix than anything. It's good but full of extra sodium that we don't need and really isn't all the full of vegetables like my family likes it to be. So I get started on this soup and hope for the best. The results were great…this recipe did not disappoint nor did it lack flavor.
One good tip for this would be not to add your pasta (noodles) to the crockpot when it's cooking. When you reheat the soup, the noddles will soak up the liquid and you will not have much broth left. Simply add the noodles to your bowls and then pour the soup over. Enjoy! (We did.)
Ingredients

5 cups of chicken broth (boxed or can is fine)
One 10.75 oz can cream of chicken soup
1/2 cup frozen pearl onions
1/2 cup celery (diced)
1/2 cup carrots (diced)
One 15 oz can of whole kernel corn, drained (or the equivalent of frozen corn)
Salt and Pepper to taste1 bay leaf
1 1/2 cup Egg noodles, cooked
3-4 chicken breasts, boneless and skinless
Directions:

Add everything but the noodles into the crockpot on Low for about 5 hours.
Shred chicken and put back into crockpot.
Let cook another 45 minutes to one hour.
Serve over noodles.