This post may contain Amazon or other affiliate links. As an Amazon Associate I earn from qualifying purchases. Click
here
to read our privacy policy.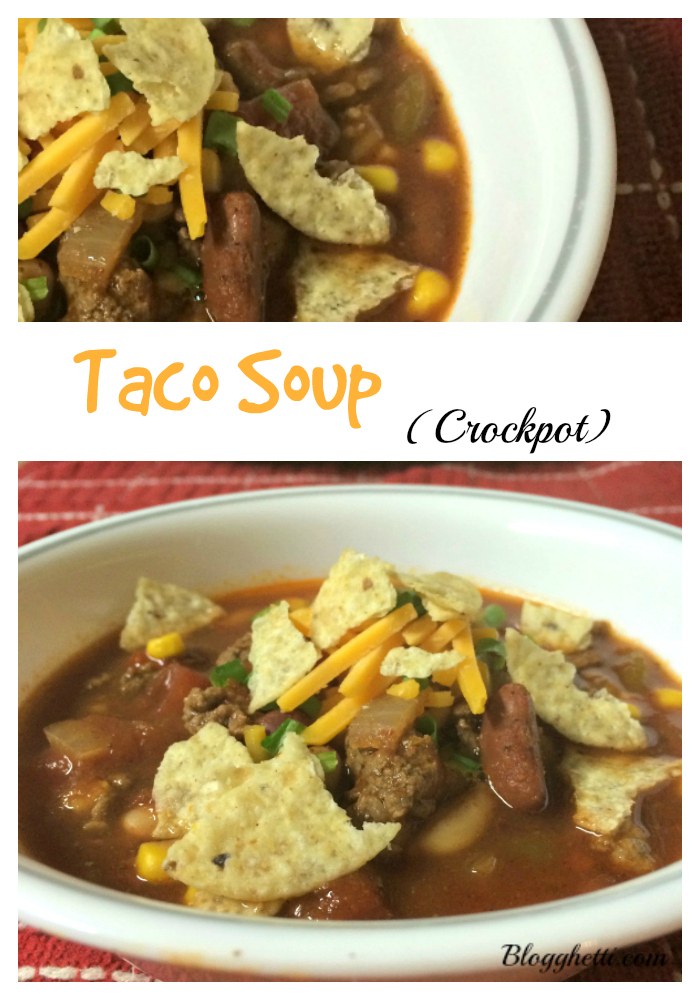 I've been absent from the blog this past week due to so many exams in my classes. I spend hours studying for them and nothing else got done. I mean nothing, no blogging, cooking, cleaning, or even grocery shopping. It was a sad week for this house. On top of that, we've had a cold spell here (yes, I know it's colder everywhere else than here and yes I am glad we have no snow or ice) and I felt like it should be a soup night for dinner. I had taken my last exam that morning so it time to cook again – and to take a nap!
I wasn't sure what kind of soup I was going to make but I knew it was going to be in the crockpot and healthy. Upon checking the pantry, I saw I had beans, tomatoes, chopped chili peppers, and I thought chili….no I want soup. I pulled those cans out and a carton of chicken stock and remembered I had a package of ground beef in the refrigerator…still saying chili, isn't it. I rebelled and decided to make taco soup. I grabbed a few more ingredients and my homemade chili seasoning mix (again with the chili?!). I didn't have any of my taco seasoning left but they're so close, the chili seasoning would work wonderfully. Feel free to use 3 tablespoons of a packaged taco seasoning mix if that's what you have on hand. I was getting excited for this soup to happen!
Once it was in the crockpot, I should have headed for that nap but instead, I opened up my abnormal psych book and read the next chapter….glutton for punishment.
The soup is amazing and when you add your "taco" toppings to it, even better. The soup on its own is healthy for you with all the veggies and the lean ground beef, of course, you can substitute ground turkey if you want. Either way, it's one darn good soup!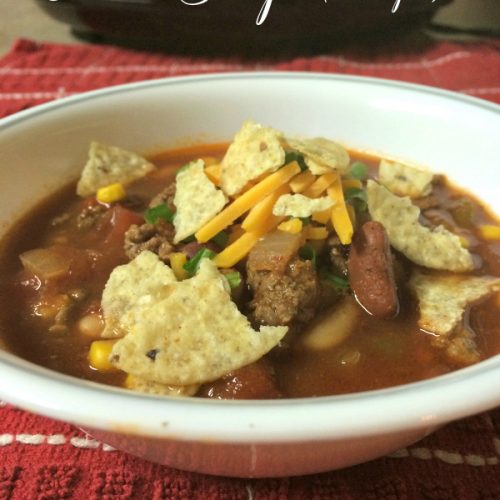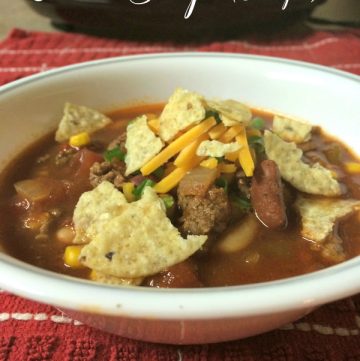 Ingredients
1

lb.

lean ground beef

1

32 oz carton of unsalted chicken stock (I use Kitchen Basics All Natural Unsalted Chicken Stock)

1

small onion

diced

1

15 oz can whole kernel corn. drained (I prefer to use unsalted)

1

4 oz can diced green chiles (do not drain)

1

14.5 oz can diced tomatoes (do not drain)

1

14.5 oz can crushed tomatoes (do not drain)

1

14.5 oz can red kidney beans, rinsed and drained

1

14.5 oz can Great Northern beans, rinsed and drained

3

tbsp

chili seasoning mix

DIVIDED (OR 3 tbsp taco seasoning mix, DIVIDED)

salt and pepper

to taste

suggested taco toppings: crushed tortilla chips

shredded cheese, diced tomatoes, chopped green onion, cilantro, sour cream
Instructions
Heat a skillet to medium-high heat and add the ground beef, breaking the meat up as it is cooking. Mix in 1 tablespoon of the chili seasoning mix into the ground beef.

When cooked through, drain and add the meat to the crockpot.

Add remaining ingredients to the crockpot (except for suggested taco toppings). Taste to see if you need to add more salt and pepper.

Give it a good stir, cover and cook on high for about 4 hours and then one hour on low. You'll know when it's done - the smell alone will tell you but check the onions. They should be tender and translucent.

Serve with the suggested taco toppings, if desired.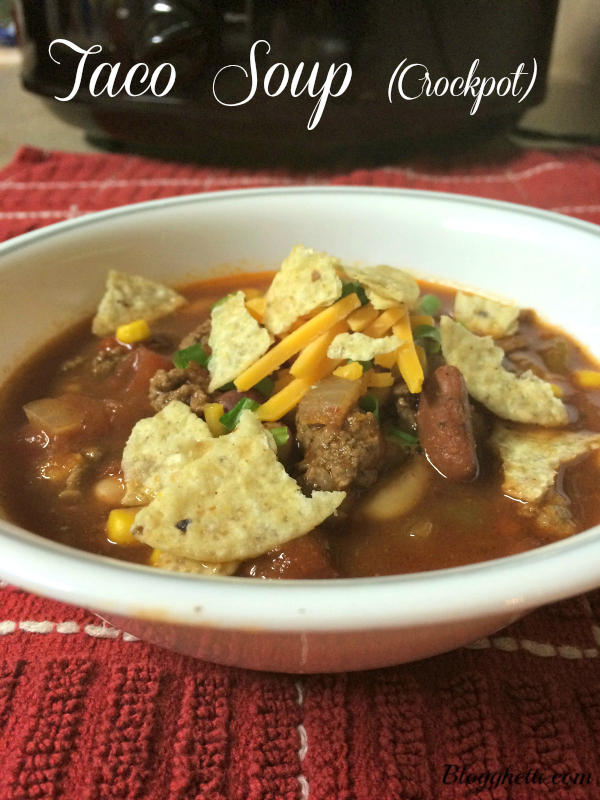 Enjoy!